Hi everyone!
I've just finished up work on some PCB designs and thought some of you here might be interested in them. I've got a handful of designs that I will be posting over the next couple of weeks but here is the first: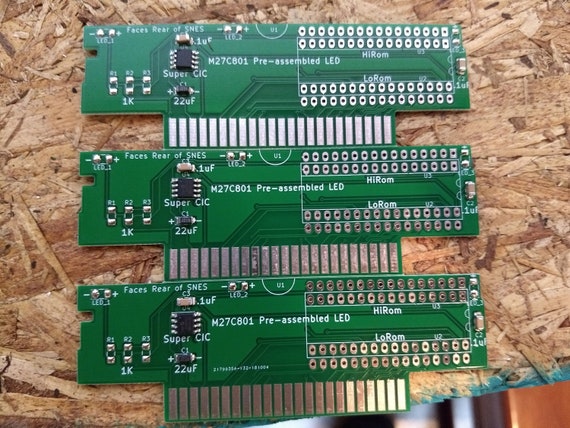 These are for 8Mbit Hirom or Lorom reproductions using the popular M27C801. This is especially handy for those who only have the popular Tl866 programmer as larger EPROMs are not supported. They come with Super CICs preprogrammed and soldered on as well as the capacitors so all you have to do is program the 801 slot it in and solder it. No swapbinning, no PIC programming, no wiring required. It's a huge time saver!
Here is a video of me demonstrating their use to a friend of mine:
https://www.youtube.com/watch?v=755b3Vt ... e=youtu.be
I've got a small batch of them on Etsy here:
https://www.etsy.com/listing/605289223/ ... e_active_1
But I'm getting ready to place a much larger order very soon so if you are interested in this or other boards please let me know so I can more accurately order.
There is space on the boards for various LEDs also for transparent shells, I plan to assemble some with and without these. I also am finishing the final touches on a PCB that uses the 801 but also supports up to 256K of RAM for save states, a board that uses the M27C160 EPROM for 16Mbit games, and another that uses M27C322 with built in decoders and up to 256K RAM all coming very soon.