Some of you may recall my previous thread where I wasn't happy with any of the currently-offered NES palettes on various emulators as well as the NESRGB board. I had decided to take on the challenge to generate the most accurate palette based on the NTSC-USA front-loader NES's composite video output. While I had finalized my 'eyeballed' palette, I had intended to do a more accurate direct-measure/capture of the NES composite video output, but I didn't have the equipment at the time to do it... Well I do now, and I just finished the conversion!
So here's how I went about it:
1. NES front-loader RCA-style video output jack hooked into video capture device calibrated to NTSC color bars.
2. Test ROM loaded into the NES that fills the screen with a single palette entry (advanced to the next entry via the controller).
3. Uncompressed video recorded for several seconds of each palette entry.
4. Screen caps taken of each palette entry shown in the video.
5. Screen caps cropped to the visible color shown, and then Gaussian-blurred to average the color.*
* Part 5 had to be done because the NES doesn't display solid colors with its composite output. Instead, they appear with 'fish-netted' type interference. Here's a pic showing the original captured NES color with my Guassian-blurred single color entry next to it:
As you can see, the Gaussian blurring does a good job of approximating the intended color.
So when I got done generating the captured palette, I was quite surprised at how close my eyeball job was comparison: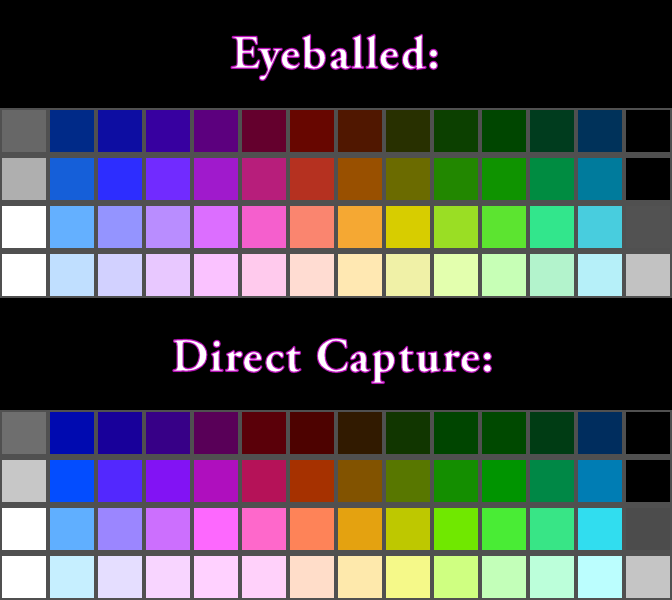 I'm calling the matter finished with the direct-captured version. If you're interested in trying it out, here's the download to the .pal file:
http://www.firebrandx.com/downloads/fbx ... apture.zip