Please add it in free time as it might be useful for developers:
1. Timings from CPU and PPU cycles (UA6527P, UA6538):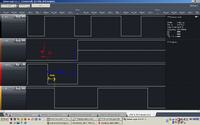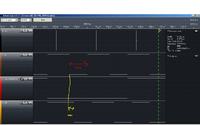 There is some misunderstanding:
[quote author=wiki]
ALE (Address Latch Enable) goes high at the beginning of a PPU VRAM access and is used to latch the lower 8 bits of the PPU's address bus; see the PPU address bus section of PPU rendering. It stays high for one PPU cycle.
[/quote]
No it doesnt, the real ALE timing is shown on my picure. Also, there shouldnt be 'VRAM' but 'VRAM/CHR-ROM/CHR-RAM'
2. I investigated the state of CPU & PPU pins on reset.
When CPU is held on reset (PIN3 = LOW), the whole bus (A0-A15, D0-D7, M2, OUT0-2 (PIN39,38,37), PORT2_!OE (PIN 36), PORT1_!OE (PIN35)) is in high impedance state.
When PPU is held on reset (PIN22 = LOW):
The PPU-side bus (ALE,AD0-AD7,A8-A13,!RD,!WE) is NOT in high impedance state.
ALE is LOW, AD0-AD7, A8-A13 is LOW, !RD,!WE is high
The CPU-side bus (D0-D7: pins 2-9) is in high impedance state ONLY when !CE (pin 13) is high, otherwise they are all LOW! For example - reading PPUSTATUS when PPU is held in reset will return $00 all the time.