I tested the `oam_corruption_stress_test.nes` ROM against different PPUs on my own Flashcart and here are the results (all the tests, except the one with UM6561 were done on the same console, with the same CPU - just the PPU and crystal resonators were altered):
No bugs:
RP2C07-0 (OMM 2X) - PAL PPU
UA6538 (9210) - found in Dendy clones
UA6528P (8911S) - from aliexpress - I bet this is just ordinary UA6538 with chinese-faked label as it needs 26.601712 MHz crystal and emits 50Hz video
TA-02NPB (9234) - Rinco Thompsonic Dendy famiclone #1
TA-02NP (9229) - Rinco Thompsonic Dendy famiclone #2
UA6528 (9201) - NTSC famiclone
Two sequential random tiles are mising on powerup, but the corruption does not go any further: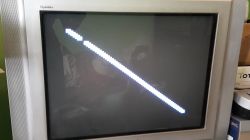 UA6538 (9009) - from aliexpress, I call it the pre-mid-'90 release
UM6561 - single chip based famiclone (IQ502)
True OAM decay - sprites are randomly appearing as time flows:
RP2C02G-0 (9M3 54) - NTSC PPU
The first conclusion is that I finally nailed the difference between UA6538 pre-mid-'90 and after-mid-'90 - the latter one is bug-free.
Second surprise is that UM6561 is based on the old, buggy version
Third suprise is that the "real" OAM decay bug appears only in original NTSC PPU, and not in its Dendy clone (UA6528)
--
I am sceptical about pulling the CPU data bus. I don't see any reason why this is connected. My flashcart does not affect anything when emulating NROM, it does not add any extra code during run. The Famicom has 330pf + 30pf on PPU/CE to ground, while NTSC NES does not, maybe that's the reason?