Hello everyone. Forgive if you do not understand me good, not English and I have translated it by means of
Google Translator
.
I am starting programming small things for the NES. Another user is teaching me by means of a framework who has designed the same one based on NESHLA.
It is not finished but they can already meet and do things. Also I use NES Screen Tool for the graphic part and tiles.
I published this itself in the section
Comunidad NESDev Hispania
:
http://nesdev.com/bbs/viewtopi ... c&start=60
but there are no many people there that attends to what it is me who does.
Only it wanted to show you the things that I have come it is to do. They are not anything of another world, but something is something, je je.
I play with the idea of carrying one
Super Mario World
or
Zelda 3
of SNES to NES.
I train with it, and, after all, dreaming is good;-)
What seems to you?
Also we are active in the forum of my Web page:
http://www.retrones.net/foro/viewtopic.php?f=1&t=8633
Examples:
Quote:
Ejemplo 1: Imagen estática de Zelda 3.
- Elegí una pantalla del videojuego
The Legend of Zelda: A link to the past
de SNES para pasarla a la NES y ver que tal quedaría dadas sus limitaciones. Para ello hice una captura del juego y mediante la herramienta NES Screen Tool recree lo máximo posible los objetos, tiles, etc... que aparecían en la NES.
- Hay que tener en cuenta que solo podemos jugar con 4 paletas de 4 colores, uno de ellos compartido y que se usa como color predominante, fondo, etc... Ademas, la pantalla realmente esta dividida por sprites de 2x2 tiles y tienen que compartir la misma paleta, por lo cual se nos complica mucho mas las cosas. Podéis comprobarlo vosotros mismos.
- Os dejo la muestra y la rom resultante. Como está creada bajo el codigo de uno de los primero ejemplos del tutorial, se conserva el efecto de aumentar o bajar el brillo usando la cruceta arriba o abajo.
ROM:
http://www.elotrolado.net/download/file.php?id=71254
Quote:
Ejemplo 2: Imagen estática de SMW
- Este ejemplo es igual que el anterior pero con el juego Super Mario World de SNES
- Fijaos en el detalle de los límites de la NES. Mientras en la SNES podemos jugar con hasta 5 planos diferentes, en la NES solo hay dos: El fondo y los sprites principales. Representar el fondo sin consumir toda la tabla de tiles que nos deja el banco de NES es complicado, por eso muchas en muchas ocasiones prefiero hacer algo parecido al original y no igual. Que de "el pego"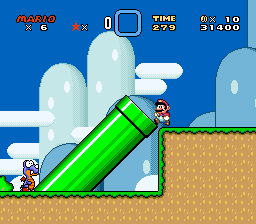 ROM:
http://www.elotrolado.net/download/file.php?id=71262
Quote:
Ejemplo 3: Imagen estática con metaSprite en movimiento
- Aquí la cosa se pone mas interesante. Volvemos al
The Legend of Zelda: A link to the past
he incluimos un sprite de Link muy rudimentario. Los sprites solo pueden llevar una paleta de 4 colores y encima uno de ellos tiene que ser transparente para que se vea bien en pantalla. Así pues, yo aquí he jugado con el
transparente + negro + verde + marrón
.
- Para ello he hecho uso de los metaSprites que hablamos en el tutorial.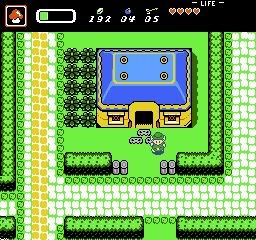 ROM:
http://www.elotrolado.net/download/file.php?id=71440
Quote:
Ejemplo 4: Jugando con los metaSprites: Dos en uno.
- Dada la limitación de colores por sprite (3 mas transparente) he hecho uso de un viejo truco que se veía en otro juegos de NES para que los sprites, sobre todo de los protagonistas, parezca que tienen mas colores. Para ello he usado dos metaSprites encajándolos uno encima del otro y ocupando las partes sin colorear de uno por los del otro. Es algo complejo dado que tienes que tener muy claro con la herramienta de creación de tiles que partes ocupara uno y cuales el otro para que cuando encajen, queden perfectos.
- Este truco se uso por ejemplo para poner el blanco de los ojos a Megaman o a Mario en Super Mario Bros. 2 entre otros. Yo aprovecho que puedo usar 3+1 para darle mas vida al sprite del Link, añadiéndole el color purpura y naranja al gorro y a la cara. El resultado es muy aceptable y mejor que el original.
- Lo malo es que consumes mas recursos de la NES pues estas moviendo mas metaSprites a la vez, no solo uno. Ademas, es muy complejo animar todos a la vez y no volverte loco. Si vais ha hacer esto, planteároslo bien desde el principio como hacerlo por que os podéis volver tarumbas.
- También he hecho que Link solo se mueva cuando pulsamos la cruceta.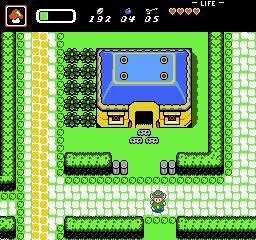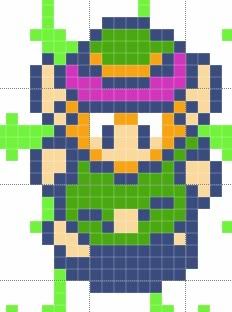 ROM:
http://www.elotrolado.net/download/file.php?id=71495
Quote:
Ejemplo 4: Esta vez con el Super Mario World:
- He intentado no complicarme tanto y usar solo dos metaSprites para dibujar a Mario en vez del cacao que tenia montado con Link.
- Mario tiene tres frames: Quieto, iniciando andar y andando. Animándolo parece que anda a trote. Ademas he añadido que solo lo haga hacia la izquierda y hacia la derecha y se anime solo cuando pulsamos cualquiera de estas direcciones.
Objetivos:
- Que cuando deje de pulsar se ponga en el frame de quieto. No se si habra alguna sentencia contraria a
mantained
que interprete esto.
- Que cuando pulse B la velocidad de desplazamiento sea mas rápida y luego vuelva a la normalidad cuando deje de pulsar.
Por ahora solo eso. Dejo la primera rom de demostración y una captura.
ROM a:
http://www.megaupload.com/?d=ZYKTJ1T8
ROM con control de velocidad añadido:
http://www.megaupload.com/?d=YDN73CEA
Quote:
Example 5:
Arreglado el movimiento de Link. Ahora se mueve en todas las dirección, aunque cuando vas en diagonal, en algunos casos y dependiendo de como partías, la animación se queda parada.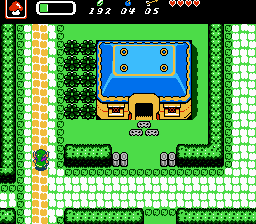 ROM:
http://www.megaupload.com/?d=HKD97C2B
Quote:
Example 6:
- Un intento de recreación del Super Mario World, con cambio de pantallas y con Mario moviéndose, corriendo y agachándose.
- Tiene algún fallo, como por ejemplo, cuando estas corriendo y coincide que la coordenada "x" de Mario se pasa del límite puesto para cambiar de pantalla, esta no cambia. En cuanto diseñemos un sistema de colisiones se solucionará este fallo.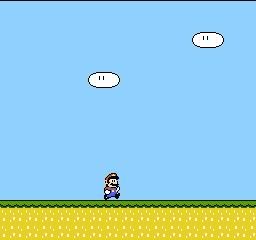 ROM demo:
http://www.megaupload.com/?d=KXZ5LXPR