byuu wrote:
> And while we're talking graphics... Considering the focus on cycle accuracy in the (B)SNES part of Higan, I'm surprised you went for a line based renderer and not a pixel based one.
Well, the Game Boy is the least documented system I've ever worked on, by a full order of magnitude. I was afraid to implement a dot-based renderer without knowledge of when various memory values and registers are fetched.
But yeah, since I'm working on the PPU, I may as well do it right. We can adjust the read timings later. So okay, I rewrote both the DMG and CGB renderers to be dot-based.
Fair enough. I understand your fear. But I thought you would start from the bottom up, so to speak. Time allowing, I'd be willing to test stuff and help you, maybe write test ROMs if needed. I'll first direct you to a dycp test by beware:
http://akane.bircd.org/dycptest2.gb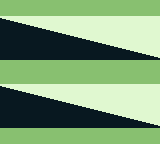 Bottom = reference. Top = drawn with dycp (palette changes.) The reference image is valid on DMG, but not GBC (off by one) I suspect that GBC takes on extra (machine) cycle to look up the RGB value for the palette or something like that. Of course, there a couple of different variables that come into play.
And yes, so much left to document, still.
Another thing I plan to do at some point is to make a bus capture device. I think that's a relatively long way into the future, but I think it would definitely produce useful information.
byuu wrote:
> You mean apart from the new "features", including not being able to import files as a command line argument (useful for dragging and dropping a ROM file over higan.exe or a shortcut to it) or the now absent ability to organize one's ROMs in folders? ... And just to state the obvious, you know my opinion on cross-loading GB and GBC files.

I don't mean any offense, and I greatly appreciate your help here, but I've no interest in discussing these topics any more than I already have.

The GUI is ethos, the core is higan. If you write a GUI for higan, you can support any methodology you like. My emulation cores also eventually appear in RetroArch, OpenEmu, Mednafen, etc.
I'm sorry about this. Maybe To give you some background, I didn't bring these things up here simply to be flippant. It came out of actual frustration (though admittedly microfrustration) while investigating the problems you asked about.
Here are the events that lead up to that paragraph: Firstly, I organize the ROMs in Higan in folders, one folder for official games, and one for test/development ROMs, which are located in the GB and GBC folders in the library. So I started by importing the Shantae ROM into v093. It didn't work, so I downloaded v093r07. At that point I moved it to the "official games" folder by habit. I started v093r07 and noticed that my library was empty. (Since I had placed everything in subfolders.) I assumed the library had been moved to a different location or something, so I dragged the ROM file onto the window to reimport it. Didn't work. (I didn't think of trying to drag and drop the purified version at that point.) I quit Higan and tried to drop the file on the .exe. Also didn't work. When I went to import the game from the import tab, I remember thinking that it was silly. Something that should be simple took so many extra clicks to get done.
That friction, together with being easily irritated from sleep deprivation and the fact that you asked for feedback, made me think it was good idea to complain about it. If one of those three things hadn't been true, I probably wouldn't have mentioned it. I apologize for the rash way of delivering the message. I should have put it differently and explained why, or maybe not have mentioned it at all.
I'll however still maintain that those two things I mentioned don't necessarily violate the ethos of Higan. Ie:
1) Allow you to browse subfolders. Not free file system browsing, but allowing the user to browse folders they have created inside the different platforms' directories.
2) Drag and drop of non-pure ROM files. If you're concerned that people will abuse this to bypass the library, make those actions import the file without auto-starting it. Or show an error message. Anything is better than silently doing nothing here, imo.
If you still don't want to discuss it further, no reply to this is needed. I get it.
byuu wrote:
Correct.
The main point of confusion is that the official binary release is called by the emulator name instead of the GUI name. And that's because I've had about 10 GUIs now.
Even more fun is that I refuse to be inconsistent in my emulator naming, so my GB/C emulator is also called bgb. But it's not like anyone sees the individual emulator names anymore, it's easier to just call it all higan. I am sure beware hates me even more for that though
Thanks for clarifying this. I was wondering if the bsnes name was dead now. However, didn't the GB emulator use to be called bgameboy. I might just have made that up in my head to disambiguate it from beware's emulator. But if this was the case, why did you change the name? Not that it really matters, for the aforementioned reason.