Years ago started a I
thread
on a C64 forum with mockups of how C64 versions of various games could have looked if they had been ported to the system.
After playing around with NES Screen Tool for the first time in quite some time while making the
Mini SMB mockup
I thought it would be fun to make a mockup of how the most "Nintendo" game of all on the C64 could have looked if it had been ported to the NES - The Great Giana Sisters!
I didn't try to make it look exactly like the C64 version, instead I wanted it to look NES. There were a few things about the C64 version that didn't really translate well to the NES graphicsmode, the metatiles are 3 tiles wide instead of 2 and doesn't always align to 2x2 grid, the screen has higher vertical resolution (240 pixels on the NES, 200 on C64) so there is more space between between blocks. Oh, and Gianas sprite doesn't really look like the C64 sprite at all...
Anyway, here is the picture.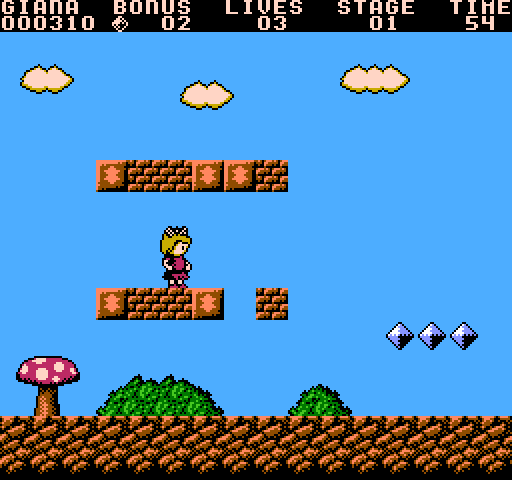 Hopefully othere people will think this is a fun idea and will post their own mockups in this thread!