miau wrote:
I suck at explaining this, but I'll try anyway: For some reason my brain thinks the teeth in the first frame and those in the second frame aren't the same, but instead it links them to the lower fangs in the third frame.
Also, in the first frame I feel they should have the dark blue color of the mouth around them like in the second and third frames.
Haha, that explanation is still awkward. Let me make another edit instead:
I changed frame 1 and 2.
Anyway, don't mind me too much, I just love nitpicking.
UncleSporky wrote:
...but they (the teeth) could also look like they're jutting upward from a lower mouth...
Oh yeah, that's what I meant. Missed it the first time I read your post.
I do like it better with the dark blue to show an overbite, but the second frame looks pretty awkward to me outside of an animation. If it has the more defined mouth I could potentially use it outside of the full roar.
And I didn't notice before that you opened his mouth wider! Now I have to use an extra tile, geez...
What do you think of him with various amounts of highlighting? It makes his eyes and teeth stand out less but it becomes a more interesting sprite overall, I think...or should I just not mess with a good thing?

I suppose it's a matter of art style and creature design (does he have scaly skin?), but he's already got a lot of shadowy parts so I may as well highlight where I can as well.
Also I mean no offense but your character doesn't look much like the art to me. This is what I see: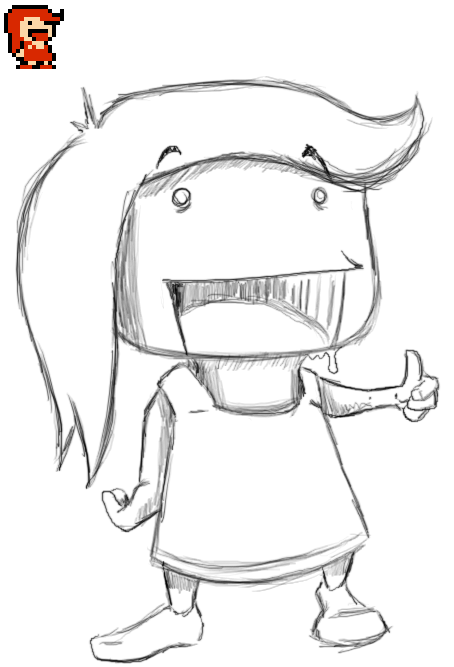 miau wrote:
UncleSporky wrote:
I hung out at the Pixelation forums too, I almost think I remember seeing you there. Did you post a lot? I mostly lurked.
Not a lot, but I was somewhat active for a few months. Under what alias did you post on the forums?
Same name. I just think I remember your cat avatar, if you used it at that time.
thefox wrote:
tepples wrote:
thefox wrote:
It's unfortunate nobody has made a graphics editor for making full screen graphics for the NES.
You're looking for something called a "nametable editor". They exist.
That's like saying because hex editors exist and you can do NES games with them assemblers and text editors are useless. My point EXACTLY was to get rid of all those steps and to combine it all to a single, easy to use tool. Let me quote again:
Quote:
"P1's main goal is to give a tool into the hand of c64 artists that is as easy and fun to use, while boosting productivity."
I doubt there would be nearly as much and as high quality music for NES if FamiTracker/NerdTracker didn't exist and everybody would have to learn MML.
Btw, I'm not looking for anything myself. I want to give others a tool that enables them to create good graphics. I want to see what NES is capable of.
I knew what you meant and I think it's a great idea. It's the sort of thing that pixel artists on forums look for to do retro graphics when they feel inclined. Most people just don't understand the limitations, since the NES is so inclined towards games (repetitive graphics and tiny moving sprites) rather than artwork.
Bregalad wrote:
Well now I've eventually go trough an update of my website (I eventually fixed terrible misspelling and removed some really outdated info) and take up to date pics of the game I'm developing, with NTSC filter and manually corrected to normal aspect ratio.
http://jonathan.microclub.ch/rainbow/en/drggallery.html
I meant to comment on this earlier, I really like your logo and the background graphics look nice, especially the desert one. And you did convert that drawing very well, I wouldn't guess that it was edited at all to fit within 8x8 tiles.