Mega Man 2 never crashes, the graphics are just f'd up. Here's what happens further into the game: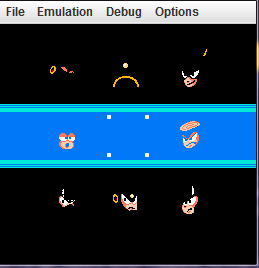 (After pressing start again the stage pick screen is screwed up)
:
:
:
(Stages are graphically completely messed up but still playable as if the game was running completely normally)
Any ideas? The 4 other mappers work perfectly but this one doesn't at all.
My own emulator suffered from the same problem until I realised that MMC1, unlike simpler mappers such as NROM, can change the mirroring mode multiple times during the game. I was originally setting the mirroring mode from the cartridge rom property but for MMC1 one must also update it memory mapping whenever a change in the mirroring mode occurs. I fixed this by exposing an event in my Cartridge class that is fired whenever the program writes to the $8000-$9FFF addtress range in MMC1 (the rom's control register range).