For my latest side-project, I've started making boards for the Nintendo Playchoice-10. This is the prototype of the first one. This one is simply NROM, just 32kB PRG and 8kB CHR ROM or RAM. Soon I'll make a GTROM/Cheapocabra for Playchoice, and possibly boards for other mappers that I'm working on.
I thought I was done using through-hole parts, but I figured this would be a good way to use up my old inventory of EPROMs.
In the past I experimented with replacing the security PROM with a CPLD, but this board doesn't need a PROM. This is possible thanks to the assembler and documentation made by nocash, which makes it possible to create your own instructions screens. No mods to the Playchoice system are needed.
What I'd like to do now is start find at least 10 games so I can create a set that I can distribute to owners who will take them to conventions, or other public places. If anyone is interested, let me know. If you want to, feel free to include ordering info for an NES cart version of your game. Though I supply NES boards and carts, it doesn't necessarily have to be anything that I'm involved with otherwise, I'd be happy to promote releases from other distributors/publishers. If anyone wants to go beyond that and release it in general to anyone, that's always an option too.
Playchoice is identical to NES. If you didn't already know, it's based entirely on a timer rather than a credit system. Here are some things to keep in mind:
RGB PPU palette is slightly different from NES
PPU "emphasis" bits can not be used (screen becomes grey)
game must start by the start button. the system locks out the start and select buttons only, when there is no time/credits
in addition to the instructions, you need to specify the amount of time your game should run in attract mode. there are 2 attract modes, first one is when the Playchoice simply cycles through all the games. the second mode is if a (potential) player doesn't have any credits, but has used the game select button to select your game.
(edit)there is no start or select button for the 2nd player
Also, if anyone is interested in releasing for this, but doesn't want to build the instructions ROM themselves, you could supply it to me as text and I could help with whatever formatting is needed and build the ROM.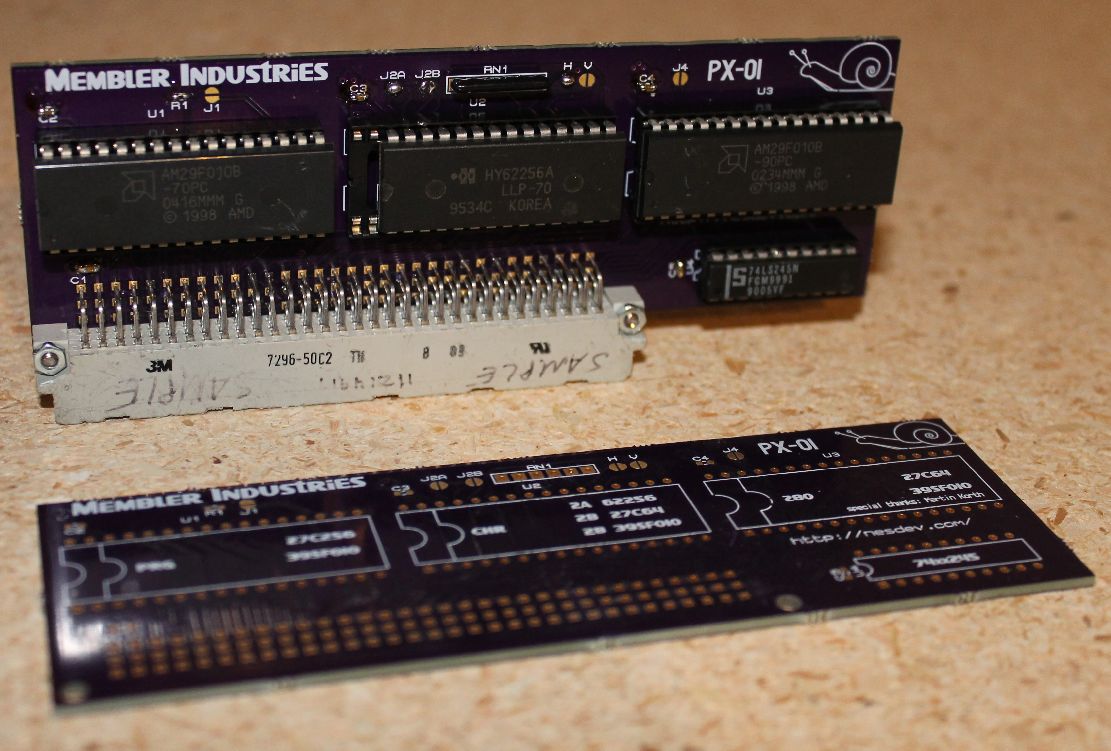 And no, it's a little amusing but I didn't write that "SAMPLE" on the connector. It's pulled off an old scrap board, one of the benefits of working at an electronics company.