Well, yesterday was Thanksgiving, and my mother told me that if I were to get a new computer (the one I have is a piece of junk. It can't even run Super Monkey Ball at 15fps and takes eons to render short video clips), it would have to be now. We like HP the most (we've had Dell computers in the past, but the build quality was shit; the hard drive broke within two years) so we were on their website looking. I was surprised by how they could possibly lower the price on some of the computers so much unless they were scary overpriced originally. I also love how much more you pay for "gaming" PCs when the components seem no better than a powerful PC that isn't branded as such. We eventually went with a vastly upgraded "HP Laptop - 17z touch optional" with
a "SuperMulti DVD burner" (I'm glad some people realize discs are still used),
"Full-size island-style keyboard" (it came with it, whatever "island style" even means),
HP TrueVision HD Webcam with Digital Microphone (literally who cares),
Windows 10 Home 64,
AMD Quad-Core A12-9700P (2.5 GHz, up to 3.4 GHz, 2 MB Cache,
8GB DDR4-2133 SDRAM (1 x 8GB),
1TB 5400 rpm SATA (I really wanted an SSD 128GB hard drive because I don't use more than 64GB, but it wasn't an option; neither was a smaller HDD),
4-cell, 41 Wh Lithium-ion Battery,
17.3" diagonal FHD IPS UWVA anti-glare WLED-backlit 1920x1080 screen,
All with a beautiful $10 red finish for a grand total of $520. I think that's reasonably priced, but apparently, this would have originally cost $810, which is BS. What's even more absurd are the "gaming" PCs, such as the "OMEN Laptop - 15t gaming". I'll outline the differences: (everything else is exactly the same)
No DVD drive,
backlit keyboard,
3-cell 61.5 WHr Lithium-ion Battery (slightly better),
HP Wide Vision HD Webcam with Dual Digital Microphone (I guess slightly better? I really don't care),
Intel® Core™ i7-6700HQ (2.6 GHz, up to 3.5 GHz, 6 MB cache) (marginally faster, but 3x larger cache),
1TB 7200 rpm SATA (slightly faster),
15 inch screen instead of 17 inch (the computer is smaller)
no beautiful red finish,
...But it's $180 more, for $700, originally $900. The only thing that could barely justify this price is the 6MB cache combined with the slightly faster hard drive (the rest is mostly superficial) but the lack of disc drive brings it down to where it was.
The crown for overpriced POS though, goes to this:
http://store.hp.com/us/en/pdp/hp-eliteb ... 6ua-aba--1
The CPU isn't even as good as the first PC I showed (sans the 4MB cache), although it has a 4K screen (why?) and a 512GB SSD. The last two parts are expensive, but $3000? Give me a break. Actually, shit, Apple may have them beat. I saw something that said they have a 40% profit margin on their computers. It's not hard to see why...
(The top thing is the logic board. The rest are the batteries)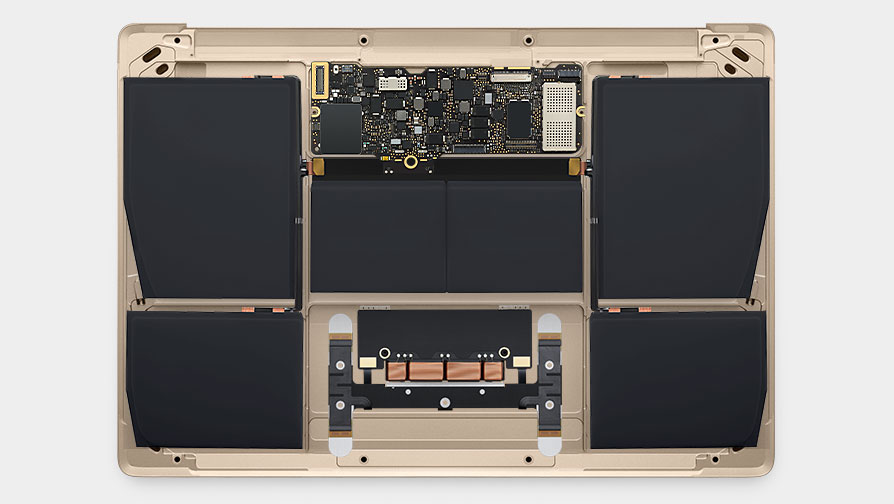 Apparently, it's just a $1000 Raspberry Pi. I now understand even more why Apple gets no respect among computer people.
Okay, sorry for the rant...
One last thing though, is if I get the first computer I showed, what would be the feasibility of replacing the hard drive with an SSD one? I know laptops aren't exactly made to be taken apart. If I could, I imagine it would fit though. I find it ridiculous we're still using HHD drives in 2016.