I think there is something wrong with description of this chip that is published on the internet OR i have other version of this chip.
This chip is from some famiclone game (probably some kind of Quattro - Arcade/Adventure or so). I did complete PCB rev-en of this cardridge: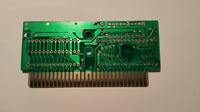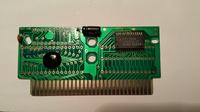 So, what are my observations:
1. CPU_!ROMSEL and CPU_R/!W lines are reversed
2. PRG_A16 and PRG_A17 are reversed.
More over, in all Quattro NES roms player on emulator (FCEUX): Adventure, Sports, Arcade when you choose second game from the menu, in facts third game is launched and when you chose third - second is launched. This might be the cause that author of emulator implemented mapper 232 according to the bad specification that is over internet.
Another more technical aspect that I have discovered is that the BF9096 chip is clocked by all of these three lines: CPU-!ROMSEL, CPU-R/!W, CPU-A14 (or rather internally by signal generated by oring all of them?) - so if all of these lines are at 0 and any of them goes to 1, the mapper latches to PRG-A16/PRG-A17 the vaue of D4/D3.