I just got one famiclone with glob-top UM6561 (soldered on add-on board), but there is also place for regular 80 pin SMD UM6561. What is weird, its pinout it shifted from original UM6561 (this pin1 = UM6561 pin2, this pin 2 = UM6561 pin3).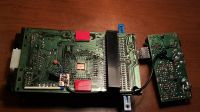 This board uses 26.601712 MHz crystal and has place for two jumpers - one marked as P/N and the other 50/60 (both were unsoldered, but soldering shorted each of them to GND).
Shorting P/N causes PAL screen to momentally switch to black/white, shorting 50/60 causes TV to lose sync (it is responsible for crystal selection).