My MMC5 cartridges finally arrived (my mistake - I ordered Suikoden, instead of Emperour). But the seller has 3 of them so I ordered all for tests. Unfortunately, all of them contains MMC5 (not MMC5A)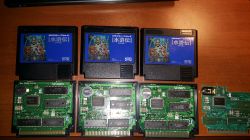 Strange thing is that none of them has registers at $5207, $5208, $5209, $520A ($5208 always return $FF - probably open BUS and does not reacts for writes for $5207). There is also no M2 clock timer at $5209-$520a (they return $FF too). I even cut CL3 jumper on one of them and it did not change anything.
I briefly analyzed my and botgod's database and it looks like MMC5 is newer and they started releasing it between 9129-9136 and Just Breed is the game which should contain it with highest probability.
Code: Select all
8950AA089  MMC5  Suikoden: Tenmei no Chikai
8950AA105  MMC5  Suikoden: Tenmei no Chikai
8950AA108  MMC5  Nobunaga no Yabou: Sengoku Gunyuuden
9005AA048  MMC5  Uchuu Keibitai SDF
9006AA020  MMC5  Castlevania III: Dracula's Curse (USA)
9006AA029  MMC5  Bandit Kings of Ancient China
9008AA090  MMC5  Castlevania III: Dracula's Curse (USA)
9009AA046  MMC5  Suikoden: Tenmei no Chikai
9010AA017  MMC5  Suikoden: Tenmei no Chikai
9011AA045  MMC5  Sangokushi II
9026AA013  MMC5  Castlevania III: Dracula's Curse (USA)
9027AA024  MMC5  Ishin no Arashi
9032AA002  MMC5  Sangokushi II
9037AA033  MMC5  Sangokushi II
9042AA019  MMC5  Gunsight
9042AA025  MMC5  Nobunaga's Ambition II
9043AA001  MMC5  Daikoukai Jidai
9045AA018  MMC5  Castlevania III: Dracula's Curse (USA)
9046AA026  MMC5  Sangokushi II
9107AA013  MMC5  Romance of the Three Kingdoms II
9107AA024  MMC5  Romance of the Three Kingdoms II
9113AA024  MMC5  Shin 4 Nin Uchi Mahjong: Yakuman Tengoku
9114AA048  MMC5  L'Empereur (JPN)
9116AA003  MMC5  Laser Invasion
9117AA017  MMC5  Shin 4 Nin Uchi Mahjong: Yakuman Tengoku
9122AA019  MMC5  L'Empereur (USA)
9122AA020  MMC5  Nobunaga no Yabou: Bushou Fuuunroku
9122AA042  MMC5  Just Breed
9123AA002  MMC5  Castlevania III: Dracula's Curse (FRG)
9123AA012  MMC5  Castlevania III: Dracula's Curse (SCN)
9123AA043  MMC5  Gemfire
9126AA004  MMC5  Castlevania III: Dracula's Curse (SCN)
9126AA012  MMC5  Castlevania III: Dracula's Curse (SCN)
9126AA023  MMC5  Royal Blood
9128AA012  MMC5  Metal Slader Glory
9128AA013  MMC5  Uncharted Waters
9136BA026  MMC5A Just Breed
91378A013  MMC5A Just Breed
9141BA014  MMC5A Aoki Ookami to Shiroki Mejika: Genchou Hishi 
9141BA020  MMC5A Just Breed