1. Those two 16850 rechargeable batteries that power up everything are connected in parallel. No idea if this is good for their life-time or charging

3. Audio voltage drop and mixing resistors have non-standard values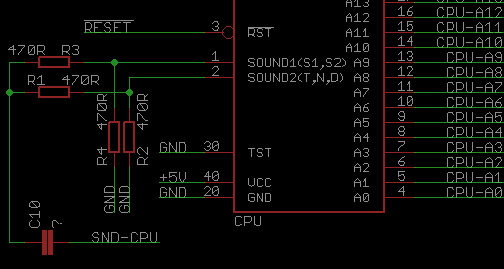 6. PPU-A13, present in the cartridge connector is not directly routed to PPU'a A13. Insted, they used some logic to make it appear like:
Code:
PPU-A13 PPU/WE PPU/RD | PPU-A13 on cartridge connector
1 x x 1
0 0 x 0
0 x 0 0
0 1 1 1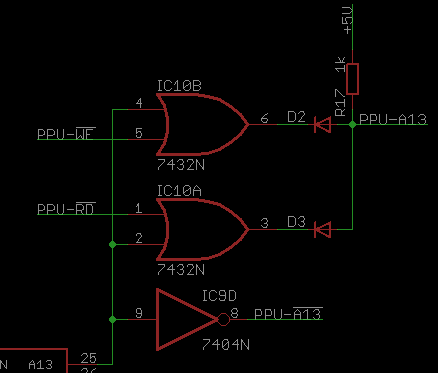 Maybe this is source of those weird graphical glitches that appear in some cartridges (with slower EPROMS?)
It makes me think that IC2 is some microprocessor for aggregating diferent functions. I haven't found any with that pinout (16 pin, 8=GND, 6=VCC, maybe it is CY8C4014SXI?)

Surprisingly, there are no single electrolytic capacitor in the whole device. I soldered two and noise seems to be lower but it is still audible at some volumes, maybe the potentiometer adds it.

What the microcontroler does (except volume control) is not clear.
Its inputs are:
* sound generated by game,
* VOLUME UP/DOWN buttons
Its outputs are:
* DATA/CLOCK to the potentiometer,
* drive the POWER LED (but is still seems to be ON after power-up),
* drive voltage to the LCD controler via Q1 mosfet (but it stil sems to be ON)
* control those four analog switches (but it seems to turn on IC3A and IC3D and off IC3B and IC3C, resulting in the external audio/video mini jack to be efectively disconnected)
So either there need to be some special sound pattern or button combination to activate the AV jack.