I want to discuss best way for RAM battery backup in SNES cartridges (without using specialised chips or MAD1).
From those of SNES cartridges with battery that has I have examined, they:
* Use MAD chip to protect WRAM
or
* Use transistor circuit to control positive chip enable line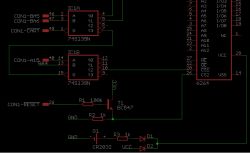 I want to make programmable cartridge but I have only 62256 memories (with one, negative chip enable line).
I created circuit like shown below. I put R3=100k but then for example Final Fanasy VI hangs after title movie.
So I changed R3 to 1k and it seems to work, but is that proper way? Should also VCC be taked into account so when it drops below certain level, /CE goes high?