Quote:
You mean Don Doko Don

Yes, sorry.
Quote:
I can definitely say that there is no jump or vector into the $6000-$7FFF area. It dumps as normal TLROM.

I think the "patch" is done on the fly, without jumping, that is - when accessing to some range of ROM address, the additional logic enables the "patched ROM" instead of the original one, this probably occurs for PRG and CHR.
Do you have dump of the cartridge? I would like to compare it against:
Country_Unk\Super Bros 10 Kung Fu Mari.nes
Japan\Jackie Chan (J) [a1].nes
Japan\Jackie Chan (J).nes
For example, looking at the ROM offsett 1FFE0 shows that the signature ("JACKIE CHAN") is in different offsets. So those 2 versions of Jackie Chan are probably complete different builds and Super Bros 10 is a patched "Jakcie Chan" of yet another built.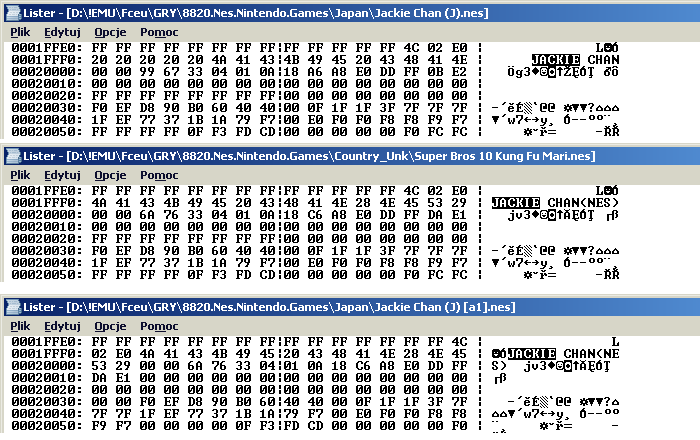 --
I compared
Super Bros 10 Kung Fu Mari.nes
against
USA\Jackie Chan's Action Kung Fu (U).nes
and they seems to be almost same, differences, here are difference regions:
PRG:
D65B-D698 copyright information cut off
F85F-F861 ?
FB06-FB08 ?
FB0E ?
FDF9 ?
1C284, 1C292, 1C737 (*)
1CA8D ?
1CA91 ?
1CAE8 ?
1CF1E ?
1CF23 ?
1DD18, 1E1AB, 1E1B1, 1E1DF, 1E20F, 1E215, 1E29B, 1E2D0, 1E3AC, 1F53B, 1F548, 1F6E8, 1F83A, 1FD72 (*)
(*) = those refers to the fact that Jackie Chans Use 8001/E001/C001 while Super Bros 10 - 8005/E005/C005 (which is irrelevant cause for MMC3 is the same)
CHR:
2E111-38B9A (less than 64k)
No idea why the patch and whole logic instead of just putting EPROMs with altered PRG/CHR.