I got photos of this cartridge. It uses yet another Kaiser custom chips (KS-201). This PCB is emulated under
mapper 346
which is different to the
Whirlwind Manu port
.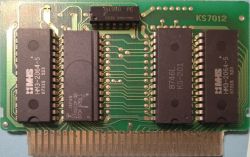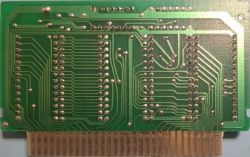 Little is known about the game itself (I did not even found the ROM dump) and the chip.
According to
cah4e3
, this chip is also used with many more Kaiser games, especially the
Almana no Kiseki, KS7017
, which is
Mapper 303
.
Because of difference of those mappers, I can predict that the connections are quite different and the KS7017 might also use additional chips.
Anyway, I am not able to anticipate the pinout in 100%. Probably address mask can extend to almost every address bit, except: A1, A8.
I also have no idea what chip should be in the unpopulated place (probably some DIP14 74xx) nor when the second unpopulated ROM should be enabled.
And no idea how the CPU R/W signal goes to this chip
Code: Select all
               .--\/--.
         M2 -> |01  28| -- VCC
    CPU A12 -> |02  27| <- CPU A0
     CPU A2 -> |03  26| -- nc ? 
     CPU A3 -> |04  25| -- nc ?
     CPU A4 -> |05  24| -- nc ?
     CPU A5 -> |06  23| -- nc ?
     CPU A6 -> |07  22| -- nc ?
     CPU A7 -> |08  21| -- nc ?  
 ? WRAM /CS <- |09  20| -- nc ?
 ?  CPU A11 -> |10  19| -- nc ?
 ?  PRG A15 <- |11  18| <- GND (unknown input signal)
 ?  CPU  A9 -> |12  17| <- /ROMSEL
 ?  CPU A10 -> |13  16| <- CPU A14
        GND -- |14  15| <- CPU A13
               '------'
                KS-201
				
Zanac uses the following addresses to switch PRG bank:
     fedcba9876543210
E0E0 1110000011100000
EE36 1110111000110110