While all of us knows that there is slight delay between rising edge of M2 and falling edge of /ROMSEL (caused by the 74138 in chip-based consoles) that can be problematic when decoding faster RAMs under $8000,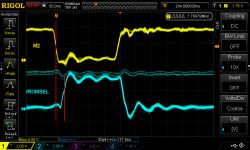 2) In some blob ones this might be much less (like 5ns)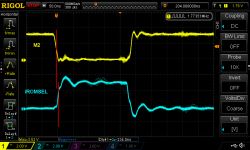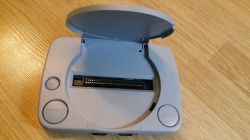 3) Or even 0 in other weird famiclone: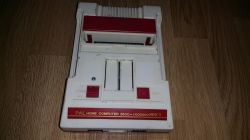 You might ask - why this is so important? This is because during writes, DATA bus starts to be valid around half of the CPU cycle, so the only safe way to read it is at the end of CPU cycle (just like RAMs do: they latch address at the falling edge of its /CE but data on rising edge)
Affected use cases things:
A)
Let's consider that we are implementing mapper that has only registers at $8000-$ffff. Naturally, the simplest way is to interpret writes when /ROMSEL rises and don't even care for M2.
Another type of mapper is when it has registers only below $8000, then it would be like:
Yet another type of mapper is when it has both registers under and above $8000, but they do not affect the same bits - we can have two separate processes just like above. This is of course starts to be quite messy because this separates our code to two places.
But what if we need to deal with mapper that affect the same bits for both under and over $8000? For example:
So the way I was working around that for years was to make only one process responsible for latching the value of foo and if the other wants do latch it as well, then it uses extra signals (proc1_please_latch, proc1_latch_done, proc1_latch_value) to communicate to the other one to do it behalf him:
So my recent idea for both simplifying the problem and making whole code to be put into one place was to aggregate both writes and watch for then when CPU_M2 falls and treat CPU_nROMSEL at that time just like it would be inverted A15:
So there are 2 solutions:
1) externally delay the rising edge of CPU_nROMSEL by the same circuit as on beginning of the post
or
2) write it in non-edge way:
Do you have other ideas?