This is a great project. I hope that artists become interested in creating HD remakes, like Marcelo Barbosa has done for Alex Kidd in Miracle World using HiSMS.
The sprite sheets for Super Mario Bros are fairly simple, so it's not an overwhelming project for an artist. Kung Fu and other early NES releases are the same way. And the characters of NES games tend to have very simple animation in general.
I'd love to take a closer look, but I can't get either HDNes or HiSMS working on my Mac using Wine. I believe that HiSMS doesn't work because it uses Direct3D 7 (rather than 8 or so). Not sure about HDNes.
Perhaps you could post a ZIP of graphics from an NES game, as ripped by HDNes, along with any remade graphics you've done?
I can see artists trying graphic packs for Super Mario Bros resembling New Super Mario Bros, Paper Mario or an animated style.
There is a lot of potential for 8-bit remakes. Consider:
Alex Kidd in Miracle World HD by MCBRemakes (Marcelo Barbosa)
by Pixeltao
by Jazaaboo.com
AlexDraws.Tumblr.com
Ducktales Remastered by WayForward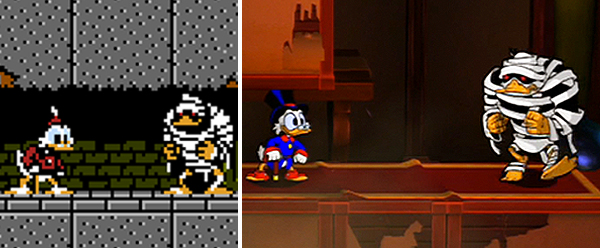 by Marobot
by Billysan291