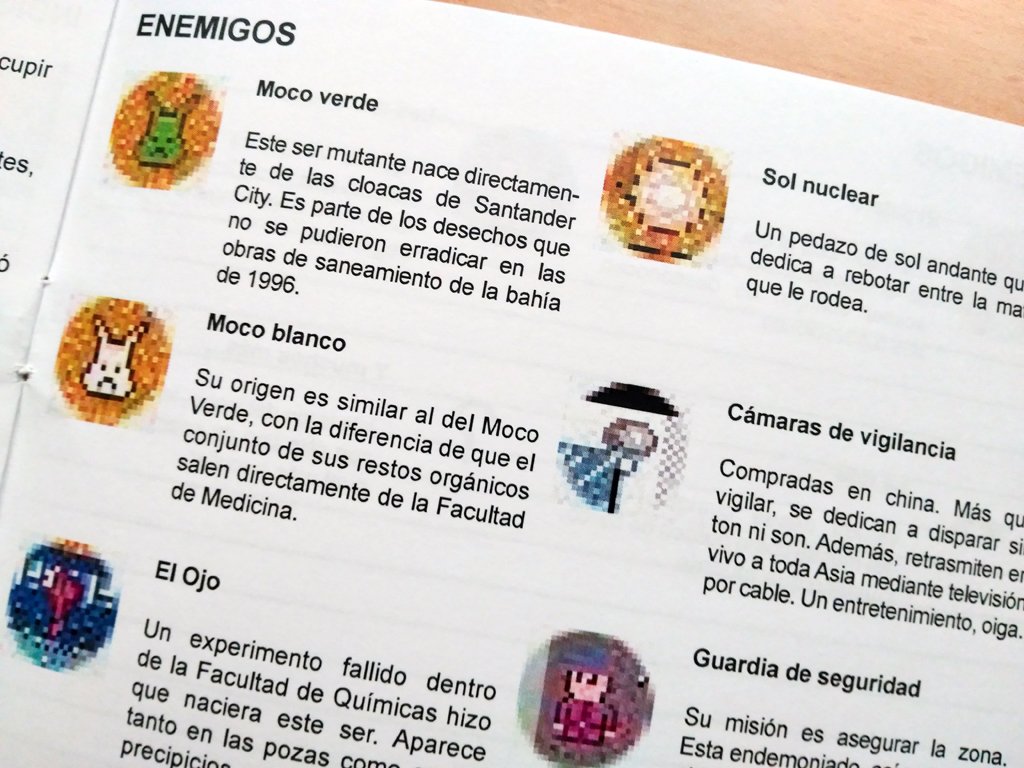 This is a page of the instructions of the video game. They belong to the beta of last Christmas, which was given to the protagonists of the video game.
The tone of humor is important to add value to the charisma of enemies. The grades will be improved, and for the english version, it will obviously be translated.
The translation of this page would be like this:
Green mucus
This mutant being is born directly
Of the sewers of Santander
City. It is part of the waste that
Could not be eradicated in the
Sanitation works on the bay
Of 1996.
White mucus
Its origin is similar to that of Moco
Green, with the difference that
Set of their organic remains
They leave directly from the Faculty
of Medicine.
The eye
A failed experiment inside
Of the Faculty of Chemistry did
That this being was born. Appears
Both in ponds and in
Precipices.
Nuclear sun
A piece of walking sun
Devotes to bouncing between matter
That surrounds him.
Surveillance Cameras
Bought in china. More than
Watch, shoot
Nor are they. In addition, they
I live all over Asia via television
by cable. An entertainment, listen.
Security guard
Your mission is to secure the area.
This demoniac, so much
Eye with what you do.