Quote:
thank you ,but batte city enter game have bug. in fc not have.

It is something with your emulator graphics. I dont see any flickering.
---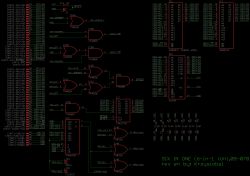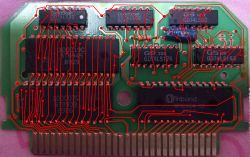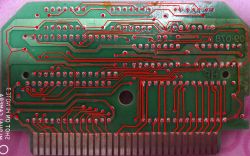 Ok, I think I 100% rev-ed this board. The register is on power up set to 0, but inverted CPU-D3 is latched, that's why I had quite troubles at beginning. In emulation (and analysis) it is the same as assuming that it is set to 8 on powerup.
---
This PCB contains 2 x 128kB mask roms. T
* The first one (marked as 100007C) contains UNROM game.
* The second one contains 5 games: 2 SUPER MERRY BROTHERS (SMB), 3 SUPER FANCY BROTHER, 4 ARKANOID, 5 BATTLE CITY, 6 1989 GALAGA + menu. SUPER FANCY BROTHER is just regular SMB with horizontal mirroring.
The menu has hardcoded CRCs for 5 games - sum of last 256 bytes of PRG's game modulo 256:
*Contra (value $d1)
*Life Force (value $6f)
*1943 (value $a4)
*Ruslin Attack (value $84)
*Jackal (value $05)
This multicart was probably sold in different versions (different game sets - they just changed the first mask rom).
After power-up, it switches for a moment to the UNROM memory and calculates its CRC. If it is one of the 5 known games, it displays its name. If it is none of the above (or mapper is not completely supported in emu), it displays just
128K
The PCB has even two solder-jumpers to select mirroring for the UNROM game
Code:
Layout of memory (each letter=16kB Block)
0123456789abcdef
||||||||||||||||
||||||||||||||++-----------PRG: Arkanoid (32 kB)
||||||||||||++-------------PRG: SMB (32 kB)
|||||||||||+---------------PRG: Galaga (16 kB)
||||||||||+----------------CHR: SMB + Arkanoid
|||||||||+-----------------PRG: Battle City (16 kB)
||||||||+------------------CHR: Battle City + Galaga
++++++++-------------------UNROM game (first chip)
Menu is encoded into Battle-City prg (and uses Battle City CHR)

Bus conflicts: yes

$8000-$ffff: [..wm Pppv] Value on Power up: 8, on reset value is not changed
|| ||||
|| |+++- 16 kB PRG-bank (lowest bit ignored in NROM 32K mode, fixed to in in NROM 16K mode)
|| | +- mode select (0=NROM 32K, 1= NROM 16K)
|| +---- 128 kB ROM select: 0=first 128kb [with UNROM game), 1=second 128kb
|| +---- mode select (0=UNROM, 1=NROM)
|+------ mirroring (0=V, 1=H)
+------- write protection of this register (active when w==1 && P == 1), so
write protection does not work in UNROM game


Pv|$8000-$bfff|$c000-$dfff|comment
--+-----------+-----------+--------
0x| 0ppv | 0111 |UROM
10| 1pp0 | 1pp1 |NROM 32k
11| 1pp1 | 1pp1 |NROM 16k