Ok, I did some measurements and research. Here are results:
UM6581 - details of operation
1. Package & pinout: DIP14, 300mils
Code:
,---V---.
!RESET? |01 14|->VCC
delay? |02 13|->P2 inactivity pulse?
XTAL1->|03 12|->P1 inactivity pulse?
XTAL2->|04 11|->P2.D0
P1.CLK->|05 10|<-P2.CLK
P1.D0<-|06 09|<-STROBE
GND -|07 08|<-IRDA
`-------`

There is how the chip was connected in famiclone: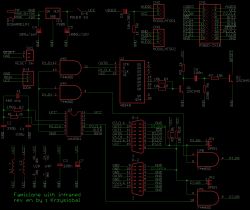 2. Clock
XTAL1 & XTAL2 are ceramic oscillator inputs (455 kHz). The chip has built-in clock generator (probably with inverter). During operation, there is sine wave at XTAL1 and TTL square wave at XTAL2. This clock is used by chip to decode signal from IRDA input & measure idle time time.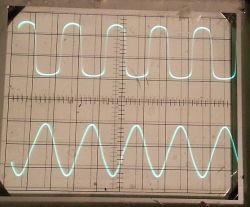 Code:
+-1MEG-+
| |
+-1.2k----to XTAL2
| |
+-XTAL-+--to XTAL1
| 455k |
| |
330p 330p
| |
GND GND

3. Infrared receiver
Output from infrared receiver should be connected to IRDA input. Originally, 3-pin 38 kHz SONY SBX1610-52 INFRA RED SERIAL TRANSMISSION ENCODER RECEIVER is used (455 kHz / 38 kHz ~= 12)
This chip has two 8 bit registers to store states of eight buttons for each player. When it detects proper waveform on IRDA input, it updates internal register with received button states.
for player1: 00[A][B][Select][Start][Up][Down][Left][Right]11000011
for player2: 00[A][B][Select][Start][Up][Down][Left][Right]00111100
Each bit takes 500 us time:
* GND on IRDA input = blinking of LED at 38 kHz = logical 0
* VCC on IRDA input = LED turned off = logical 1
If no infrared signal is received within 25 ms for each player, internal button states for this player will be reset (set to ones).
Original infrared joypads probably send those signals only if any buttons are pressed, instead of continuous transmission, to save battery. If signals from two joypads are send at the same time, they will interfere and no valid data is received by the chip, so probably they send the data more often that once per frame (25 ms) or in diffrent intervals.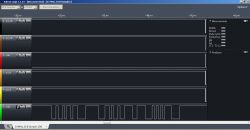 4. Output
STROBE is connected to CPU's pin 39 and P1.CLK/P1.D0/P2.CLK/P2.D0 are connected to 74368 buffers in famiclone and they behave the same as for regular joypad:
* rising edge of strobe causes driving P1.D0/P2.D0 with state of A's button for 1/2 player,
* each rising edge of P1.CLK/P2.CLK causes the P1.D0/P2.D0 to be driven with state of next button (B/Select/STart/Up/Down/Left/Right),
* after eight edges, D0 is driven with 0.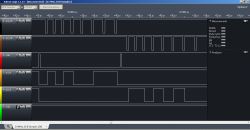 5. Miscellaneous
* Pin 1 & pin 2 have internal pull-ups to VCC and they acts as some kind of inputs, while pin 13 & pin 14 are outputs.
* Pin 1 is probably !RESET. If GND is applied, chip does not generate signals on pin 12/13, ignores IRDA input,returns 0xFF for pad1/pad2 and if there were time shift between pulses on pin 13 and pin 12, they will be in sync after releasing reset.
* There are pulses on pin 12 if no data is received for P1 within some time (and the same on pin 13 for P2). Those pulses have constant duty cycle of 12.5% and frequency, which can be set (lets call it fpoll)
If data for pads are received, there won't be any pulses. Maybe this signal can be used as some kind of notification for the pad to send signal.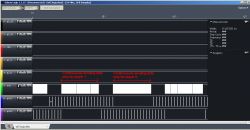 * Pin 2 selects fpoll (the maximum delay between receiving two signals for one pad which will not cause reseting button states.
**Driving with GND causes pin 12/pin13 to have 564 Hz
**Driving with VCC causes pin 12/pin13 to have 23.52 Hz
It is NOT analog input. Some kind of frequency signal could be put here, but it should be in phase with pin12/pin13.