rainwarrior wrote:
psycopathicteen wrote:
If a CRT has dark spaces between lines, the lines are usually bright enough to compensate for it. On an LCD you can't have black and white stripes and still make it look white.
Yes, this is a very important aspect of it. If the beam isn't interlacing it is concentrating twice as much light on half the space (i.e. no change in overall intensity vs. interlaced mode). There is no equivalent range of intensity on an LCD with emulated scanlines. Plus CRTs are brighter than LCDs just as a baseline factor, even before taking into account scanlines.
The "solution" is to just have a cranked up LCD backlight, but that's kind of janky. No matter how you look at it, emulating scanlines sacrifices total luminosity.
To say CRTs are brighter than LCDs is a bit of an umbrella statement that's untrue in a lot of cases, but your average CRT TV / 15Khz monitor in good shape will be very bright. A PC CRT is often quite a bit dimmer.
For what it's worth, this is what a nearly NOS 32" tube looks like - and it's not a PVM, or other fancy broadcast video monitor. Just a big honking slot mask curved tube.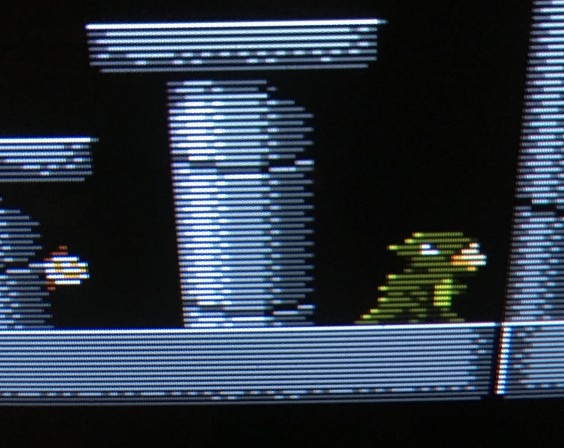 (Using a game I expect most people here to recogniz!)