This time I'm doing it a little differently, looking at a wide variety of games and comparing similar areas.
Specifically, forest and tree levels! Usually found sparsely in the first level or more densely in level two or three, forest areas are quite common in NES games. And unsurprisingly, there are many ways to portray them, depending on the mood you want the player to feel.
As usual, many graphics are taken from
here.
Contra:

Earlier NES games tended to do it in this style: lots of dense, vertical lines with some leaves on top. That does get at the essence of what forests are about, but isn't terribly interesting. At least it's not too intrusive.
Duck Tales:

This is the other common method for forests. Rather than fading into darkness, they show a connected canopy of leaves with sparse, thin trunks. Personally I don't think it looks very forest-like, but if you lack the tiles to do a lot of details, it's functional.
The moss and vines on the trunks here almost seem like an excuse not to use another brown in the palette.
Darkwing Duck:

Three years later, Capcom's Disney adaptations had much better forests! Nice use of light and dark colors, different tree heights and horizontal distribution, and a black background pattern that shows more forest beyond. It only uses one shade of green but it's dark enough that the lack of varying color isn't too glaring. Reddish brown is even used again in the foreground plants as berries. This is one of the better forest scenes on the NES, I think.
Castlevania 2:

Similar to Contra, very repetitive. A common method on the NES is to do this sort of fade to darkness with the leaves. You can see how they saved on colors compared to other games' trees by using only one shade of green and brown. It's not as dynamic as a result, though - it might've been better to use the ground colors for the trunk and add a second green to the other palette. I'm not sure that would be possible with this exact design, though.
In my opinion, they attempted to put too much detail on the trees and branches using only brown and black. Repeated tiles are very visible. I also don't like the horizontal web of branches, it's sort of distracting to the eye and still makes it look like there is just one perfect row of trees, rather than a whole forest.
Again, compare this to their efforts two years later in Castlevania 3:

Much spookier. The larger trees help to sell it too, along with the irregular canopy. Last time I didn't have a screen of the clearing at the start with the trees off in the distance, very cool.
Astyanax:

I like scenes with larger trees because they look more imposing and it gives you more room for detail, assuming you have the skill to do it justice. This compares well with Castlevania 3: notice how this game uses plain brown for the trunks and plain green for the leaves. It also doesn't leave anything to the imagination, doesn't imply more leaves going up into darkness or more trees in the background. It's not horrible but it could be a lot better. It's a good lesson in suggesting when you can, rather than being explicit. Of course if you like how it looks, then by all means do it!
Mickey Mousecapade:

Another hallmark of early NES games - lots of solid color, and yet too many lines crammed into certain places (the "scribbled on" leaves). I do like the randomized look of the trees here.
In this level the trees actually do matter, the closest ones are often hiding goodies and secret doors that warp you to other seasons (different palettes).
Big Nose the Caveman:

There are certainly other ways to do forests than the examples above. This one just gives you the impression that a forest is back there. I have to say I'm not a big fan of it, partly because the foreground graphics are much more detailed. They don't fit together very well, but it does bring the action into focus. Part of the weirdness here is how from the bottom up, the colors go from dark to light rather than vice versa or another configuration. Why are the closest plants in silhouette? Ah well.
Bible Adventures: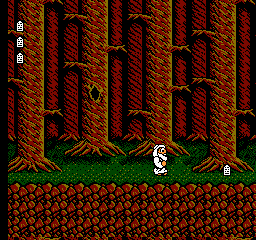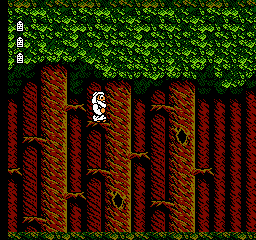 This one is simple but doesn't do a bad job at conveying dense woods and random growth. As should be obvious, these trees are also an important part of this game, so they made sure to have them stand out. Bark spiraling around the tree is a little odd but the shadowy canopy looks fine.
Bram Stoker's Dracula:

The pattern is very visible but at least the trees fade out into the distance, and they even left room to show mountains. All in two shades of green.
Later in the NES's life, more devs made games that either had a cartoonier style that played to its strengths or showed details only on the edges of scenery. This shows some of that technique, how one side of the tree is highlighted and the rest is dark, and we only see the peaks of the mountains.
Blaster Master: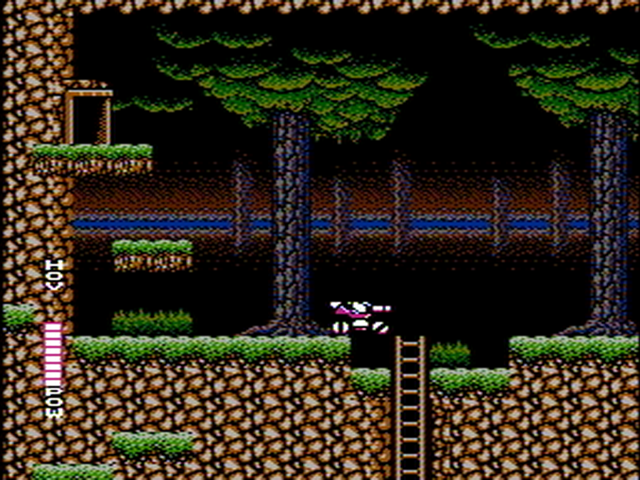 Somewhat similar in feeling to the one above. The use of brown, grey and blue for the trunks is interesting (obviously the blue was used for the horizon). It's also neat how the background trees are more fuzzy and indistinct. The leaves at the top are especially well done, implying a lot more than we are able to see.
Double Dragon:

I like the texture on these trees, although it ends up looking a bit like a middle school play with prop trees. The leaves are again too patterned and flat.
Frankenstein: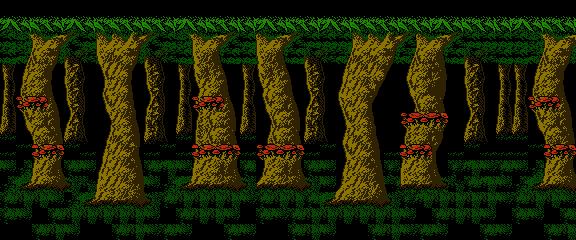 I only show this one because it's unique in that it uses non-standard sized trees. These seem like they're based on photos. The canopy is much too regular though.
Kirby's Adventure:

To be honest this isn't the most beautiful forest I've seen, but it fits in perfectly with the rest of Kirby's art style and plays to the NES's strengths. I think it's intentionally designed to look like hanging sheets of paper, and it shows some great depth.
Gimmick:

This is one of my favorites. Very clean art, nice use of highlights and shadow, and it suggests detail without needing to show all of it.
Ninja Gaiden 3:

This one is very detailed and interesting to look at. Here's a zoomed view: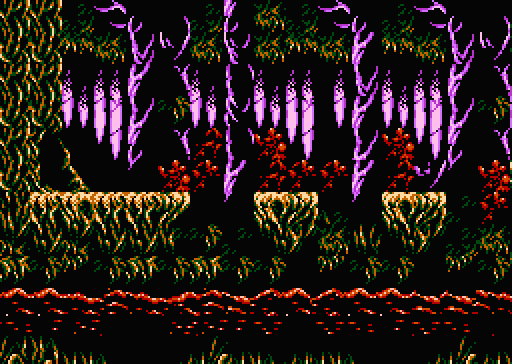 Really varied colors is the first thing that jumps out at me. Green and yellow makes the foliage look dry or dying, in contrast to the bright red bushes and purple trees. Very dreamlike. It's got the same far off tree pattern as Darkwing Duck, except anti-aliased with light purple. These colors aren't often put to good use in NES games, but I think it works very well here.
Moon Crystal: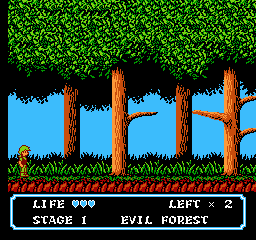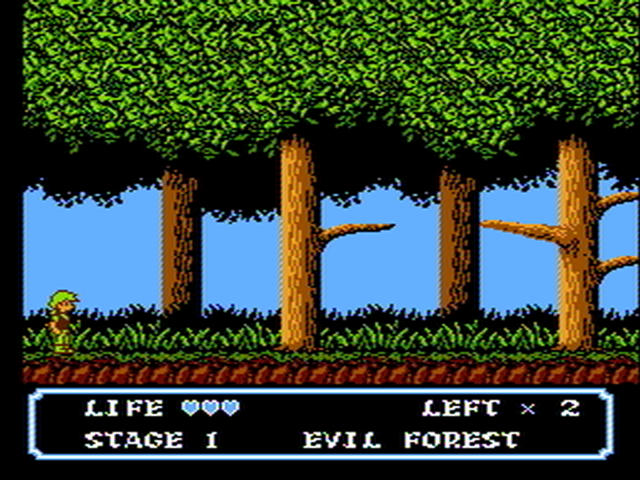 Moon Crystal is an awesome game with great animation, I may look at the rest of it someday. For now, here is its opening forest. It's not among the best here, but it could be a whole lot worse. Simple and effective, good use of shadows and highlights.
Finally I wanted to look at what is probably my favorite forest area. First, look at Megaman 2: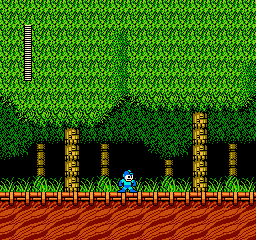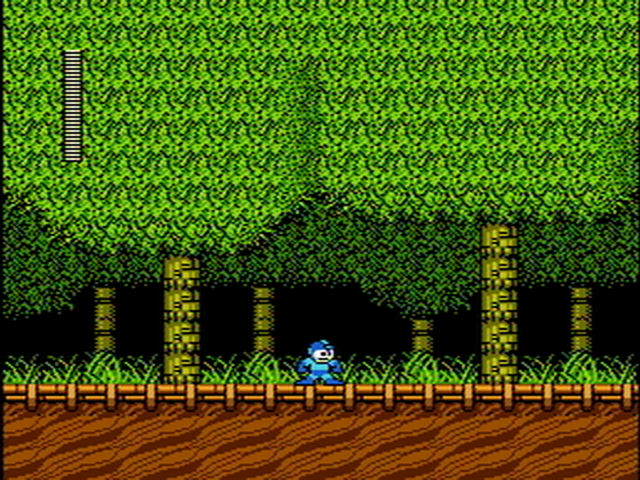 Six years later, Megaman 6: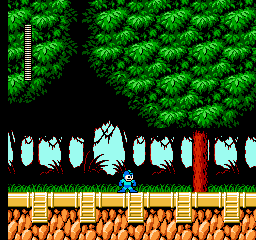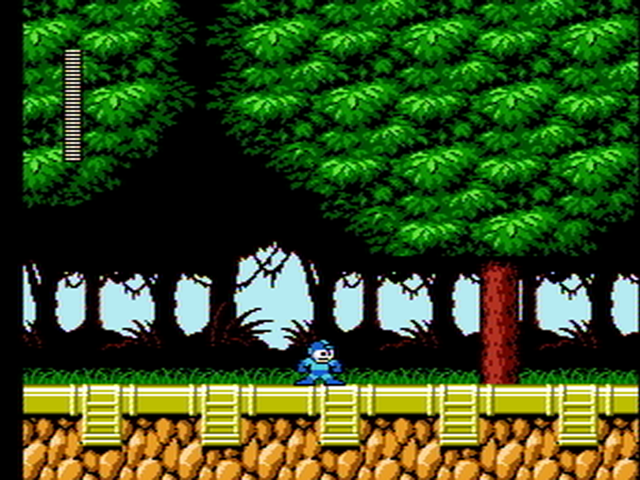 I suppose it doesn't do everything perfectly, but it's the overall package that sells it. Four palettes that complement each other well. The use of multiple shades per color so that nothing looks underdeveloped. Three greens in the leaves means that it almost looks like a SNES game (reminds me of Secret of Mana trees). Anti-aliased silhouettes in the background with an unobtrusive blue. I really like the hanging vines.
They incorporate purple flowers in the canopy later that also fit in well: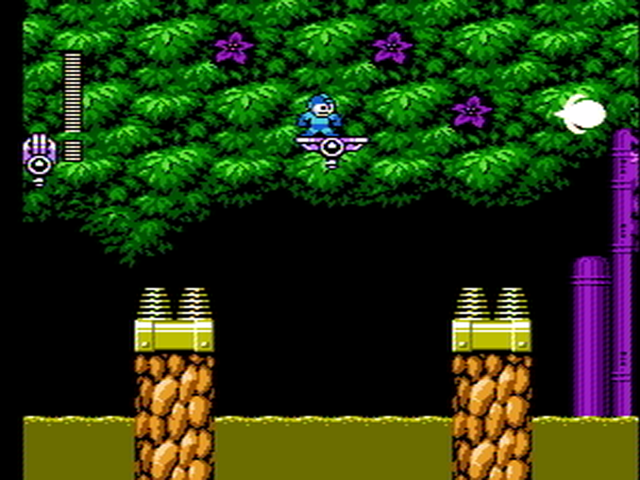 They don't even interrupt the leaves too much, it just looks like shadow around them. It's very well put together.
One other forest I really like is the one in Magician. I don't have any screens yet, but you can see it in
this video.
Another unique style with non-vertical trees and a detailed environment.
Well, that was super long. Hopefully that will provide some good ideas for trees in your own games, or at least open your eyes a bit to designs in different games. Style affects many things, and you've got to use those four palettes wisely.