For the record, the title screen looks like this: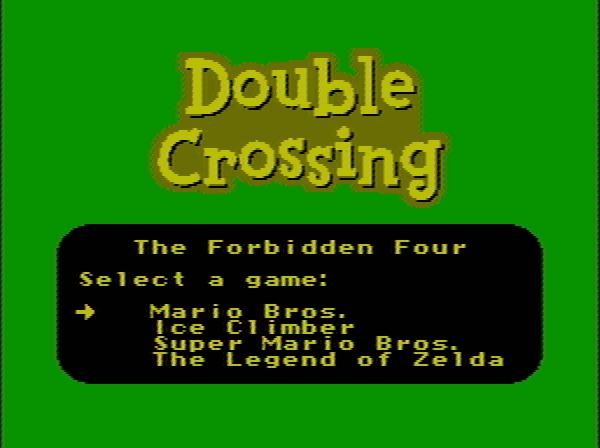 Why "Double Crossing"? Google it. Also Google "Body Harvest Moon".
AWal wrote:
...I also would imagine a "Forbidden Five" near impossible...
It would be possible to add Punch-Out!! by converting PxROM to FxROM by duplicating the $A000 bank, converting Zelda to FxROM by replacing MMC1 write subroutines with MMC4 write subroutines, adding a "submapper" to switch between Punch-Out!! and F4 and between CHR ROM and CHR RAM (like TQROM?), and following mostly the same guide. Or you could just ask _Lao@Tzu for a trade code.
Bregalad wrote:
Actually, SXROM
Very not common.
Bregalad wrote:
or more SNROM games that only switch 32kb ROM banks
Like which?