First of all, give special thanks to
qwertymode
for the help and
whicker
by its schema, I could finally understand some things I can help find a solution to my problem.
starting from the beginning, 74lsn139 is a double decoder, where two signals enter and exit 4 signals (abstract example: in a radio, where by a knob, we choose if we want to hear cassette (exit1), radio (exit2), dvd (exit 3), or auxiliary(exit 4)) then we have two decoders into a single IC.
see the next picture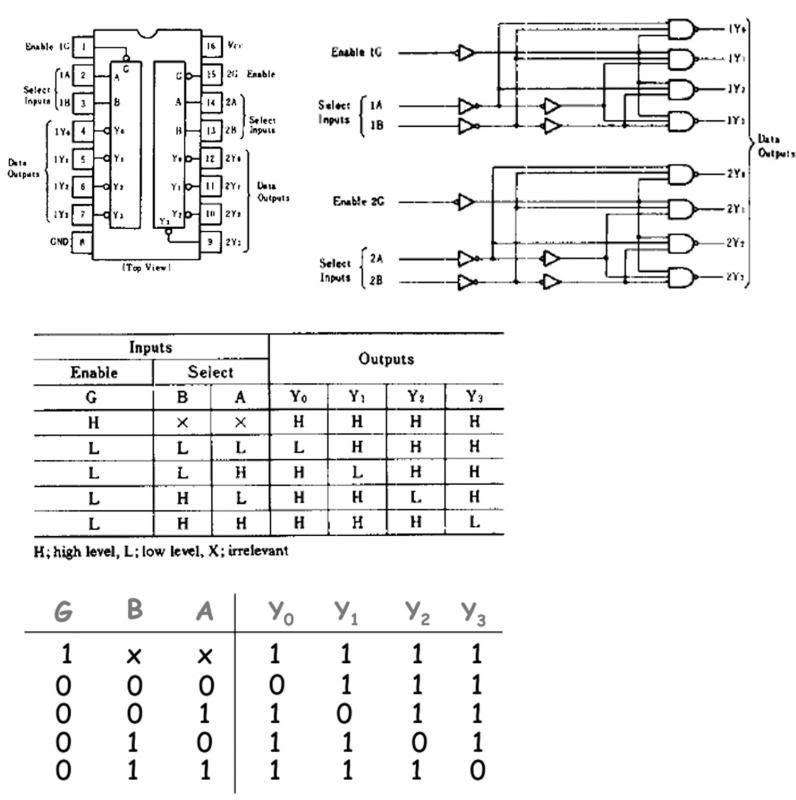 explaining superficially so you can understand, I'm human, so I can go wrong
if pin1 send you current, all outputs are disabled, otherwise, depends on the signals sent to pin 2 and pin 3, to choose the output (pin 4 to pin 7).
no signal on pin 1:
if pin 2 and 3, no electrical signal sent by default you enable the output pin 4.
pin 2 no signal, and send signal to pin 3 was enabled output signal pin 6
pin 3 no signal, and send signal to pin 2 was enabled output signal pin 5
if we send signal to pin 2 and pin3 will activate the output signal pin 7
then reviewing previous threads, I can finally understand these two images (Thank magno and getafixx, Thanks for sharing your experience with us )
MAGNO
following the magno's image
1.-From / ROMSEL, it sends a signal to enable or disable the outputs of the 74LS139
2.-From pin 40 of the cartridge (A15) is connected to pins 2 and 3 of the decoder, then when the game doesn't this savegame, output was enabled decoder pin 7 (which is connected to maskrom)
3.-Then when the game needs savegame, signal cartridge pin 40 (A15) stop sending signal (LOW signal) and block the output pin 7, but in turn has enabled this output pin 4.
if you look pin4 is connected to another pin (do not forget that this IC are two decoders in one) to pin15, this enabled this the second decoder, and most likely the pin 14 (A20 [45]) and pin 13 (A 21 [46]) signal being sent when shooting, so activating the output pin 9 (which is connected to the SRAM)
then this should work well only if my next hypothesis was well
when the game is functioning normally (without saving)
pin 15 should be sending signal
pin 20 and 21, in this case it would imply I was or not sending signal.
when the game prompts you to save
pin 15 should stop sending signal (I mean sending a signal LOW)
pin 20 and pin 21, both should be sending signal
this configuration only work one MASKROM and one SRAM
the part you do not understand is what he said qwertymodo, which can only handle 16 Mbits. I think that with an EEPROM (flash) of 32 Mbits should work.
keep writing soon, I need some sleep, I'll have a nice nightmare with the MAD-1