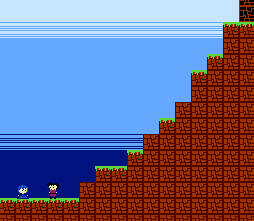 Just released my first NES homebrew! Developing this was great fun.
It's a port of a PC game called "Mega Mountain" by @sylviefluff.
Music was done by Damian Yerrick/DJ Tepples/PinoBatch and you can listen to it here:
Listen to the soundtrack
You can get the game from the attachment here, or, if you want to donate to me or have the game in your itch.io collection, from Itch.io:
https://adrianmakesgames.itch.io/mega-mountain-nes
Copied itch.io description of this follows.
original mega mountain description, courtesy of @sylviefluff:
Your best friend has been kidnapped and taken to the top of the Mega Mountain. You must save him.
features:
- a new NES game!
- easy and hard modes!
- 2 endings to discover!
- a platformer without jumping!
- not a port of cat planet!
- play using any available nes emulator (except nesticle) or on a real cart! (carts coming soon)
credits:
a game by @sylviefluff. NES/FC port by Adrian Makes Games. Music & sound engine by @PinoBatch.
© 2018 Adrian Makes Games.