I bought original Flintstones to test the TC0690 chip.
On real hardware (NTSC console) Flintstones run fine. I swapped the EPROMs for the ones with pre-programmed Jetsons ROMs and there is the scanline artifact (see attached videos).
Flintstones:
https://youtu.be/fdR8Reo8xFU
Jetsons:
https://youtu.be/eQ64sxrECQI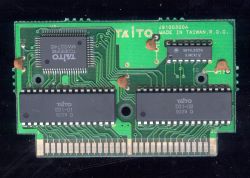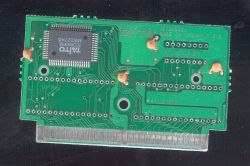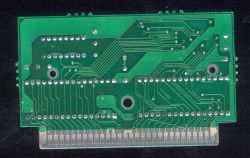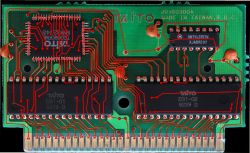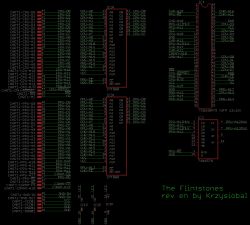 ---
The TC0690 pinout on this particular cartridge is following.
Code:

_____
n/c -- /01 64\ -- n/c
n/c -- /02 63\ -- n/c
CHR A15 <- /03 (o) 62\ -> CHR A16
PPU /RD <- /04 61\ -> CHR A11
CHR A18 <- /05 60\ -- n/c
CHR A10 <- /06 59\ -- GND
PPU A12MUX -> /07 58\ <- CPU D3
PPU A11 -> /08 57\ -- VCC
VCC -- /09 56\ <- CPU D2
PPU A10 -> /10 55\ <- CPU D4
GND -- /11 54\ <- CPU D1
CHR A13 -> /12 53\ <- CPU D5
PPU A13MUX -> /13 TAITO TC0690FMI 52\ -- n/c
CHR A14 <- /14 51/ -- n/c
CHR A12 <- /15 50/ -- n/c
CIRAM A10 <- /16 49/ -- n/c
CHR A17 <- /17 48/ <- CPU D0
n/c -- /18 47/ <- CPU A1
n/c -- /19 46/ <- CPU D6
n/c -- \20 45/ <- CPU A0
/IRQ <- \21 44/ <- CPU D7
/ROMSEL -> \22 43/ -- GND
PRG /CE <- \23 42/ -> CHR /CE
CPU R/W -> \24 41/ -- VCC
VCC -- \25 40/ <- M2
PRG A15 <- \26 39/ -- n/c
GND -- \27 38/ -> PRG A17
PRG A13 <- \28 37/ <- CPU A13
CPU A14 -> \29 36/ -> PRG A18
PRG A16 <- \30 35/ -> PRG A14
n/c -- \31 34/ -- n/c
n/c -- \32 33/ -- n/c
\ /
\ /

I was particulary curious about the huge amount of unconnected pins, so:
* 1, 2, 18, 19, 20, 31, 32, 33, 34, 39, 49, 50, 51, 52, 60, 63, 64 - no signs of any internal connection (multimeter diode test to GND/VCC)
* 5 - CHR A18 (because TC0690 does not ignore D0 unlike MMC3 when setting 2k CHR banks, it is possible to access 512kB CHR memory but only using 2k banks)
* 36 - PRG A18
--
IRQ seems to behave differently that in the MMC3:
Code:
048 - MMC3
---------------
$C000 $C000 irq latch
$C001 $C001 irq reload
$C002 $E001 irq en
$C003 $E000 irq dis

* Mechanism of IRQS:
Code:
if falling_edge(PPU_/RD)
if PPU_A13 = 0 AND LAST_PPU_A12 = 1 AND PPU_A12 = 0
if (IRQ_counter = 255)
IRQ_pending <= 1;
end if;
IRQ_counter++;
end if;
LAST_PPU_A12 <= PPU_A12
end if

* IRQ is asserted immediatelly if IRQ_pending flag is set AND IRQs_are_enabled
* It is impossible to tell if the IRQ_counter is reloaded instantly when writing to C001 or when falling edge of PPU /RD (but that does not matter)
* Only writing to C001 clears the IRQ_pending flag (dislabling IRQs doesn't)
* IRQ counter reacts only when there is a PPU A12 transition at $0000-$1fff and only during PPU reads (because the external 74157 mux prevents chip from seeing actual PPU A12/A13 values during PPU write cycles)
* IRQ counter does not checks for M2 when determining if two A12 transitions are too close to each other