Triple post!
Because I'm not about to buy a $200 supergun, it occurs to me that the Jamma standard has a pins for three buttons, along with a start button. Luckily, so does this:
Because the controller port is identical to a serial port (?) you could just get a male to female serial port cable and stick the wires from the Jamma harness accordingly. (I have no idea how the six button controller works)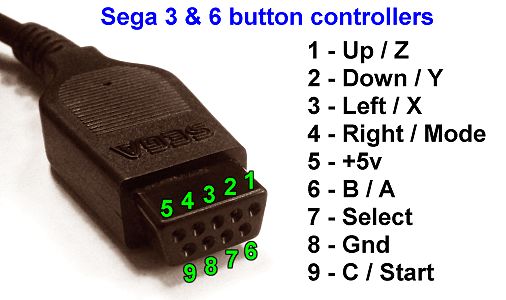 Your power supply is going to have to supply 5V anyway, so that's fine. The real problem seems to be a video converter; I'd have thought it'd be all be analog, but all the devices I've seen appear digital, which more than likely means there's going to be lag.
Does anyone have any suggestions?
Edit: Wait, I'm an idiot, looking at the schematic, even with the standard controller, some buttons share the same pins somehow. Darn.
Edit 2: Actually, I'm not sure... I've found some stuff that seems to imply each button has one pin assigned to it, and I have no idea what "select" means on the above picture.