I have encountered an interesting problem in Famitracker, when using DPCM samples. I made a thread about it on the Famitracker forum, but nobody replied, so I'm hoping somebody here can help.
I would like to use some DPCM bass for some of my projects. I want the samples to be really small, so I can have more space for drum and maybe sound effect samples and fit it all in the 16KB space, dedicated to DPCM data. So I made a bunch of Saw Wave samples for different notes. Each one is short and small. The way I would play longer notes is by looping them. And here is where I ran into an issue. When they loop, the samples sound like arpeggios are being used or something. As if there is some silence either in the beginning or the end of the sample, which ruins the clear sounding of the loop. And when creating those samples, I made sure they sound clear, when looping.
When I looked at the waveform in Famitracker, I noticed this: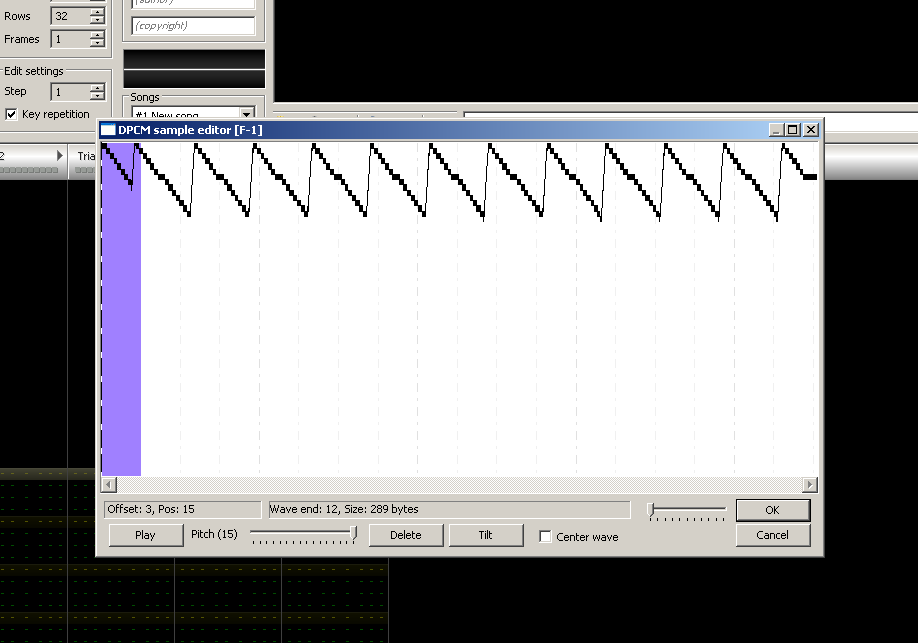 The compression has changed the beginning and ending of the wave. Is there a way to prevent this from happening? If I try using a sample with one wave cycle, this problem doesn't appear, but the pitch gets changed and every sample sounds like the same note. Perhaps the current length of the samples I'm using isn't right. If so, can someone tell me how long is the selection I've made in the screenshot and will this solve the problem with the looping?
I've included an FTM with one of the samples and the original .wav file.