I got interesting famiclone, with a lot of weird jumpers (it does not have any built-in games). It is powered by single 26.601712 MHZ crystal.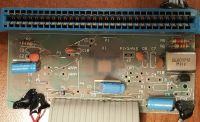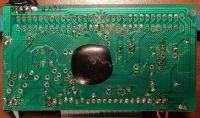 1. Closing or opening jumpers WRAM, VRAM, P1Y3/A5 does not change anything.
2. Jumpers OPT1, OPT2, OPT3 are quite interesting.
- When none of them are closed, console generates PAL video (the same as on Dendy or other famiclones - games which needs true PAL like Asterix does not work)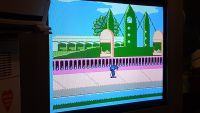 - When OPT2 is closed, console generates NTSC video - the sound is a bit faster and the video aspect is not letter box as in PAL.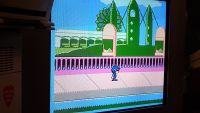 To be honest, I dont know if it is real NTSC or PAL with 60HZ and less scanlines, because my TV can synchronize to this video when video source on TV is set as: PAL or as NTSC (when I plug in console which generates true NTSC on 21.417 MHZ crystal and UA6528&UA6527, when TV video source is set as PAL, the video cannot be vertically synchronized). So maybe this is not real NTSC?
The image shakes a little bit, which is vissible on the edges: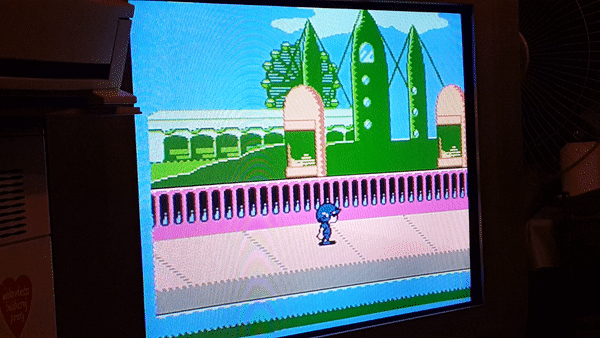 -When OPT3 is closed, the console generates gray scale PAL video, although when TV in auto mode, the image is switching. When I force it to secam, it is still gray scale but more stable.
Here is comparision when TV is set to SECAM and OPT3 is closed or open - the image differs a bit on straight vertical edges.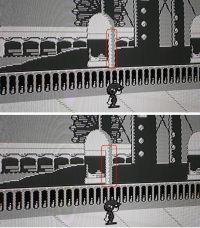 - When OPT1 is closed, the sound is like 150% faster, TV loses sync (althought something is displayed). Maybe it is for speeding-up game or when replacing crystal with 21 MHZ, it would generate true NTSC?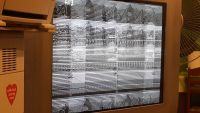 All this playing with jumpers can be done on-the-fly, the game does not crash at all!