I got this weird fami-clone with integrated 9999999 in 1 multicart (not a second cartridge inside, just a second blob, next to the Nes On Chip). I want to discuss a non-desctructive way of dumping it (unless it is already available). I can't even solder ~60 wires to all blob's PRG-A/D/CHR-A/D lines, because Nes on Chip will conflict with it.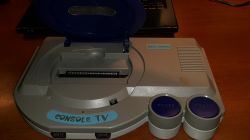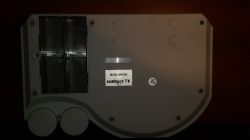 So maybe I should investigate how the console checks for the presence of main cartridge, then make a special-dumping cartridge with RS232/USB port, which will put its code into RAM and execute from here, then disable the main cartridge slot?
Why I want to dump it? Because it contains unique, modified popular games:
Tennins (Tennis Hack)
Mars (Star Force Hack)
Sky Invader (Sky Destroyer Hack)
Cow Boy (Wild Gunman Hack)
Forest Guard (Hogans Alley Hack)
Space 2050 (Duck Hunt Hack)
Ufo Race (F1 Hack)
Ufo Shoot (Duck Hunt Clay Shoot Hack)
Those hacks are really cool and unique - they changed the music, background and sprites (and maybe levels). Never seen that before.