A device plugged between Famicom EXP port and the joypad, meant to intercept the joypad keystrokes, store them on tape and play them back again giving ability to "save the game"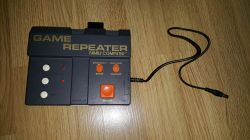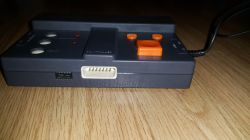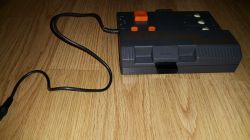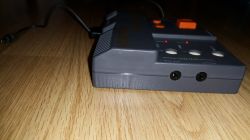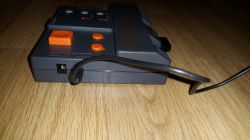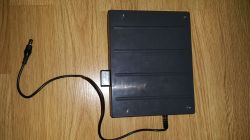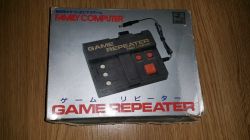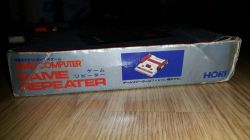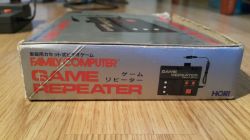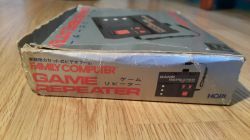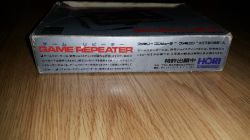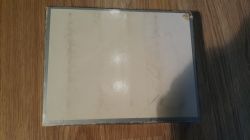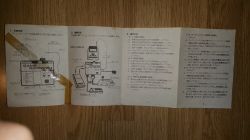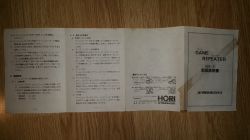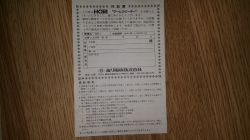 Quite poor in my opinion:
* totally impractical design - you need to press certain sequence of switches to make it work. Without this movie I wouldn't been able even know how to use it:
https://www.youtube.com/watch?v=QECS8Jy3_YQ
* You can start saving only from the beginning of the game (when console is restarted), so you can't use it for a partial saves (macros), for example in RockMan where you need to make certain combination of jumps and moves to pass to next "save point" or to beat the whole level (you could've record yourself a whole cassette with sequences for every level in this game)
* Won't work with games that have some kind of randomness
* You need special Hori Joypad (15 pin, using $4016.D1) or you have to unplug the joypad from Famicom and plug it into this the 5 pin header socket. * The game you're playing need to OR $4016.1 with $4017.0
The PCB is one of the worst I have ever seen:
- paper laminate with non-plated vias (just like in SNES games or some Konami's Famicom PCB
- traces were drawn by hand, not by CAD
- there are signs of fixes - somebody tried to wipe out badly drawn track: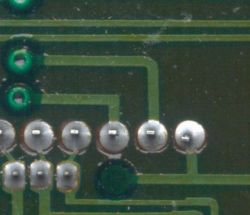 - In this kind of PCB all connections to the components pin have to be done on the bottom layer, top layer is only for vias, but anyway there are tracks going to the components on the top layer, duplicated by connections on bottom layer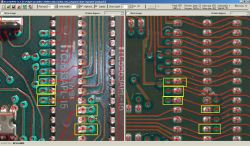 - some part of PCB is not covered by soldermask at all
- They cut out the track going from power jack to 7805 and soldered a wrong-polarity protection diode (actually this is a feature). But what a funny diode is that?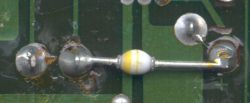 * I do not know if this is a mistake when soldering resistors, but I was not able to get any signal out of the tape recorder jack, maybe because the 1M resistor is too much?

* Also skipping the second stage amplifier by shorting its input with output? Ehh.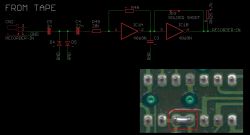 Internals
Device is built using custom TMP47C200 microprocessor, two SRAMS for storing keystrokes and a few 40xx components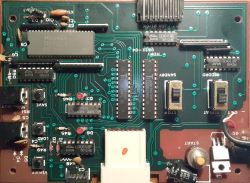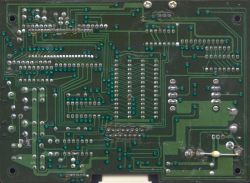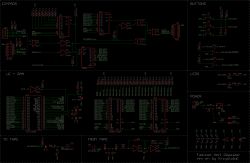 Principle of work
1. If RECORD/REPEAT button is slid into RECORD and STANDBY/STOP button is slid into STANDBY mode, it waits until console is restarted (either by the START button on Repeater or POWER/RESET button on the Famicom). It does not record anything until that happens. No idea how it actually detects that console is being restarted, maybe it waits for longer periods of inactivity on CLK or STROBE line.
* after that happens, device records inputs to the internal SRAM
* after recording should be stopped, slide the STANDBY/STOP into STOP mode
(see waveforms)

* now if you want to store content of the internal RAM to tape, press SAVE buton
The sample waveform output to the recorder is shown below:

2. If RECORD/REPEAT is slid into REPEAT and you press LOAD, it will playback what you've recorded.
The data to tape recorder is transmitted by a sequence of two (or three) different pulse lengths and duty (909 Hz, 1270 Hz, 2130 Hz)
Eech byte of RAM cell is stored a sequence of 8 pulses plus there is begin and end sequence for whole packet.
I did not analyse the protocol nor but it seems to be recorded as a kind of Run Length Encoding: when input combination changes, two bytes are saved - the combination itself (8 buttons in one bit) + number of frames the previous keystroke lasted (if it lasts more than 64 frames, that is 64 * 16.67 us = 1.06s, only a single byte with value of 64 is stored).
So the amount of inputs you can fit into the memory depends on how often you press the keys. Assuming NTSC console (frame every 16.67ms):
* In best scenario, where you almost do not press anything: 8192 bytes/SRAM * 2 SRAMs * 1.06 s = 4.82 hours
* In worst scenario, where you hold the TURBO button that alters every frame: 8192 bytes/SRAM * 2 SRAMs / * 16.67ms / 2 bytes per frame = 68 seconds
MCU
The code executed by TMP47C200 MCU, clocked by 4 MHz crystal seems to be internally pre-fabricated into the chip, but there is non-documented TEST pin that I do believe can be used to read back it content.
BTW. Can anyone abolish the 5 limit of attachments/post? I would like to start uploading all my images into the nesdev.bbs instead of using external hosting website.