tepples wrote:
HVC-101 is the Famicom AV, correct?
That is correct.
tepples wrote:
This means that on both ports, D0-D2 are driven low and D3-D4 are open bus. Does it change if you plug any peripherals into the DA15 port? Do you have any such peripherals?
I don't currently at the moment. I'm looking into maybe obtaining a gun, but that's about it.
tepples wrote:
NES-001 results summarized:
40 20 41 21 NES Four Score (NES-034A)

I've noticed that the Four Score will either pass the controllers verbatim (in the 2 player mode), minus the extra data pins used for the light guns, or it will "pretend" to have controllers connected all around (in the 4 player mode), and the signature would generally have to be relied on instead (So one could only detect the adapter as a whole, not which controllers are actually connected).
tepples wrote:
v2 was used, not v2a.
Oops. Crap...Here's the results of r2a without any peripherals connected:
From left to right, NES-001 Cart, NES-001 Everdrive N8, Yobo FC Twin Everdrive N8, and HVC-101 Everdrive N8.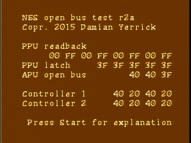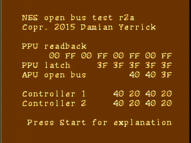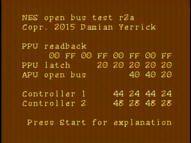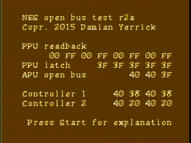 I'm starting to notice that these colors really stress out the poor picture quality on the clone console. I feel sorry for people who have to put up with poor board design like that because it would be prohibitively expensive to import a genuine console.