I think I found a lead on where the runtime patches are stored.
I did a search on the entire /usr/share/ directory for the byte sequence 10 0A 17 18 17, which spells "GANON" in the game's text encoding. I found only 1 file with this byte string:
/usr/share/games/nes/kachikachi/CLV-P-HAANJ/autoplay/0be33d87903018bde4f01672b434800b89c4fa7e_0.inputs.state
This looks like a save state that the emulator loads every time the game is loaded.
In it, there is a block of data that is exactly
0xB96D
0x1802 bytes long, starting at $013FD2 which patches the .qd image at $008665. It includes the entire intro text and a few other things. Most notably, the
font
is
included in this patch
included in a separate patch in this file; the original had "©" copyright symbol glyphs at 0xF0 and 0xFC, but the Famicom Mini version replaces the one at 0xFC with a "," comma glyph, which is the cause of a typo on the ending screen.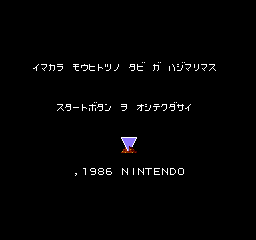 =============================
Myask wrote:
Gamecube (and, I expect, VC) versions of Zelda II: the Adventure of Link have a glaring, not-tile-aligned/sized PAUSE text (kinda like closed-captioning white-on-black) on the overworld…that isn't in the ROM.
I don't know about the Wii Virtual Console versions, but among the GameCube versions, the first game also has that very same pause graphic:
The Game Boy Advance versions have smaller "PAUSE" graphics instead. They are not in the 3DS or Wii U Virtual Console versions.
EDIT: Crossed out some errors in my patch research.