This is fixed schematics according to MLX suggestion: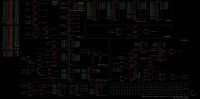 Assuming that SMB3 ROM was not modified at all, it should still work - after scanline counter is reset (*), it waits 13 scanlines (13*114 M2 cycles) and then every 114 M2 cycles, scanline counter is clocked.
(*) IC1A resets it when there are at least 8 CPU cycles outside $8000-$ffff (happens only when using OAM_DMA write or executing code from RAM?), so should automatically reset it one time per frame (in VBLANK)
Why 13 scanlines delay? SMB3 NTSC version resets scanline counter in VBLANK at scanline 248, 13 scanlines ahead before rendering next frame starts.
It is really awesome how those bootleggers at their time (this cart is dated for 89-09) have big knowledge and understanding of the NES hardware. Today, when there are really many NES freaks and access to common knowledge is not limited, still not everything is known.