Basing on the
only existing photos
of Aladdin Deck Enhancer v1.1 I tried to reverse engineer the pinout of cartridge connector as well as CCU_v2.00 CF30288 chip (which should be equivalent in functin to the BF909X chip found in single cartridges)
The CIC stun circuit is the same like kevtris
describes
.
Because there exist Aladin cartridges of single games (mapper 71):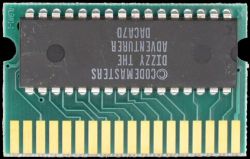 and Quattro ones (mapper 232):
I suspect that there is either a pin informing the CCU chip which mapper the cartridge uses or - more likely, according to
kevtris description
:
The mapper seems to just be a mix of the BF9093 and BF9096. The two upper address lines from the game ROM goes to a different set of pins depending on wether it's a normal or quattro game.
there are separate pins for inner bank (INNER3..0) and outer bank (OUTER1..0) and:
* single games wire PRG_A17..A14=INNER3..0, skipping OUTER ones
* Quattro carts wire PRG_A17..A16=OUTER1..0, PRG_A15..14=INNER1..0
(that would hypthetically allow up to 1MB huge Quattro 4*256kB games to be used)
If someone owns Aladdin cart, that would be good to check which aladdin's connector pin goes to one of those ROM pins: 1, 2, 3, 31, 30, 29, 24, 22)
If someone owns Aladdin dech enhancer, that would be good to check to which aladdin's connector pin goes one of those CCU pins: 13, 14, 15, 17